Helped by its strategy to abroad to counter the Indian slowdown, L&T continues to do well on order inflows. However, given the continuing weakness in execution (revenues and margins), it seems fully valued. The TINA (there is no alternative) factor and exceptional management quality keep us EW (equal weight).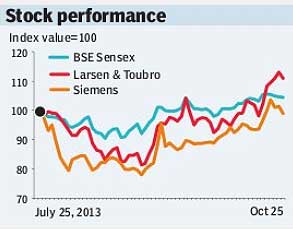 F2Q14 threw up no major surprises: In line with the management's guidance for a weak H1FY14, the company posted 10% year-on-year revenue growth (66% driven by foreign revenues) along with a y-o-y decline of 110 basis points in Ebitda margin in the quarter. Adjusted for an apples-to-apples comparison (mainly removing the exceptional forex MTM loss for the quarter), L&T would actually have registered only 25 bps margin decline y-o-y. Given the weak base coming up in H2, for F14e we forecast that it will beat guidance on inflows, deliver closer to the bottom end of guidance on margins, and miss slightly on revenues.
Strength in inflows again: On the positive side, order rose 27% y-o-y (to R265 bn). The numbers seemed to miss our estimate and consensus by a wide margin, but that was because quarterly estimates were created out of the order flow announcements made by the company in the quarter. Several orders reported towards the end of the quarter were won by the Middle East subsidiaries, not L&T itself.
Hence the negotiation of the breakup of work between L&T and the subsidiary is still on, with the orders thus scheduled to be recognised into the flow in H2. We believe that as the Middle Eastern share picks up, it will become more difficult to get a sense of the quarterly inflows from L&T's press releases. In a repeat of Q1, infrastructure (helped by the Riyadh metro contract) remained the biggest driver, though the hydrocarbon vertical (helped by both domestic and foreign orders) also kicked in again. On the geographical side, after a gap of two quarters, Q2 inflows saw the return to foreign flows , in line with the company's guidance. This implies that the lion's share of F14e order inflows will be