Dollar inflows from NRIs into bank deposits plunge in Aug
fe Bureau: Mumbai, Oct 12 2012, 02:42 IST
Dollar inflows from non-resident Indians (NRIs) into bank deposits unexpectedly plunged in August after having risen sharply for three consecutive months, data from the Reserve Bank of India (RBI) showed.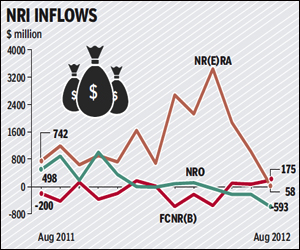 Non-resident (external) rupee accounts saw an inflow of a measly $58 million during August, sharply lower than $1.01 billion in July.
Bankers said that since deposit rates were slashed for NRIs after domestic rates were cut, incremental flows could have slowed. Following the RBI's move to cut the Statutory Liquidity Ratio (SLR) by 100 basis points in July, several banks slashed their domestic deposit rates.
Since banks cannot give NRIs a higher rate than that on domestic deposits, NRI deposit rates were also slashed.
However, bankers said that the sharp fall is unexpected and just interest rate cuts do not explain the fall.
"This kind of fall is totally unexpected because NRIs have never got such good returns and the rupee too was in a range,"said the head of treasury of a public sector bank.
The Indian rupee had moved in a narrow band of 54-55 per dollar in August. The currency ended at 52.69/$ on Thursday.
Bankers said that, overall, NRI deposits had been steady in September. "For our bank, NRI deposits had neither decreased or increased," said an official at a south-based private bank.
Nevertheless, compared with the previous year, inflows are still twice as high.
During the April-August period, banks saw an inflow of $8.50 billion into NRE deposits compared with just $101 million in the corresponding period the year ago. The