Deposit rates pick up as banks scramble for cash
Pranav Nambiar: Mumbai, Mar 07 2013, 09:27 IST
Late last week, Punjab National Bank (PNB) raised interest rates on deposits by a fairly hefty 125 basis points for maturities between 180 days and one year. The return on these relatively shorter-term products is now a fairly high 8.75%. But itís not just short-term money that banks are scrambling for; in mid-February, State Bank of India (SBI) offered its customers 25 basis points more if they left money lying with it for more than a year and up to 10 years.
SBI CFO Diwakar Gupta argues that SBI wasnít exactly offering the best returns on longer-term deposits; so, it needed to tempt customers with a hike in the rate to 8.75%.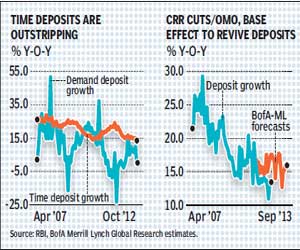 ICICI Bank, for instance, offers 9% for a tenure of between 390 days and two years. But itís also true that had the system not been so short of money, SBI might not have needed to tweak that rate.
Unfortunately for banks, however, deposits have risen at a very slow pace for over a year now, even as loan growth has tapered off averaging some 16% year-on-year. In the fortnight to February 22, deposits grew at 12.7% y-o-y to R65,61,051 crore, a sharp drop from the end of 2011 when the growth was averaging as much as 18%.
Between April last year and now, the increase has been a much slower 7.6% than the 9.3% in the corresponding period of 2011-12.
In all this, itís really the cheaper current and savings accounts that are fast