imports are reduced. To curb the import of gold, the government last year had increased the import duty of the metal. The import duty on gold has been fixed at 2% of the value instead of the earlier R300 per 10 grams.
Why is gold demand rising in India?
India is the largest importer of gold in the world. In 2011, World Gold Council data shows, the demand for gold increased to 961 tonnes valued at $47.8 billion dollars. In the nine months to September this year, India has imported 591 tonnes of the precious metal valued at $32.5 billion. Demand had slowed down in the three months to June this year to 181 tonnes because of high prices, and a nation-wide strike among jewellers in protest of government plans to increase the excise duty on refined gold from 1.5% to 3%. However, after much pressure, the government rolled back the the proposed hike before the auspicious Akshaya Tritiya festival. The demand of the metal, however, picked up in the three months to September this year to 205 tonnes because of festival and marriage buying. Moreover, according to the World Gold Council, although lower monsoon rains during August had curtailed demand, a recovery in rainfall during September boosted sentiments and drove the relief-related demand. With the price of gold almost doubling in the last two years, the metal has given the best 5-year returns as compared with bank deposits and the Sensex. Traditionally, like everyone globally, Indians too consider gold as a good hedge against inflation and with headline inflation remaining sticky, the demand for the metal has risen.
How do Indians invest in gold?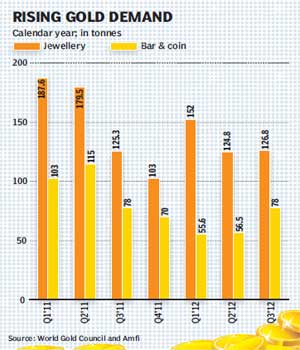 In the physical form, jewellery accounts for about 60% of the total demand and the rest is in the form of bar and coins, basically for investment purposes. Increasingly, Indians are also investing in gold ETFs with mutual funds because, by investing in the paper form, one can eliminate issues related to purity, insurance, storage and even reselling. The assets under management of mutual funds went up from R743 crore in March 2009 to R11,477