December quarter earnings show receding negative surprises so far
Devangi Gandhi: Mumbai, Jan 31 2013, 00:43 IST
The December quarter corporate earnings show a negative surprise of about 1% so far, according to a compilation of latest numbers by Bloomberg. The net earnings of 475 companies that announced their results till January 29 reported y-o-y sales and earnings growth of 13% and 30%, respectively. However, a minor subset of companies shows that the earnings have failed to meet analyst estimates by a margin smaller than the previous quarters.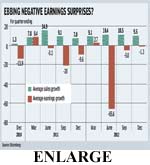 Of the 96 companies for which actual numbers were compared with analyst estimates, about 43 — or less than a half — reported negative earnings surprise. In the first four weeks of the September quarter earnings season, a similar study showed 56% of the 66 companies posting a negative earnings surprise of 4%.
Market observers say the improvement in negative surprises this quarter is in line with broader expectations of earnings downgrades bottoming out.
According to a Morgan Stanley analysis of the latest result cycle, six out of 10 sectors have seen expansion in Ebitda margins, the exceptions being materials, healthcare, telecom and technology.
According to the Bloomberg compilation, Jubilant Life Sciences, Dish TV, Reliance Communications, Karnataka Bank and Sintex Industries were among the few companies that showed the biggest negative surprises in net profit for the three months to December compared to the last year. Each of these companies failed to meet analyst earnings estimates by 23% to 75%. Adani Power emerged as the major disappointment as its net losses expanded to R619 crore in