This onion story did not end up as a tear-jerker, despite the imagery that the headline may be creating in readers' minds. With the price of the vegetable touching the sky in India recently, breaching Rs 80 and more, e-commerce firm Groupon sought to derive some attention by offering a mouth-watering deal by pricing it at Rs 9 a kilo, roughly about one-eighth the prevailing retail price in Delhi, which harks back to what the housewife paid for it in way-back time of 1999.
It caused a huge hue and cry across the country and there were dire warnings of fate of governments, at both state and central levels, hanging by a thread. The company itself identified itself unabashedly with the common man, who found the humble onion disappear from his plate, and took a dig at the powers-that-be. Here is what it had to say: "This much-coveted, much-written-about, much-craved-for vegetable is now almost as expensive as caviar, diamonds and Donald Trump's wig!"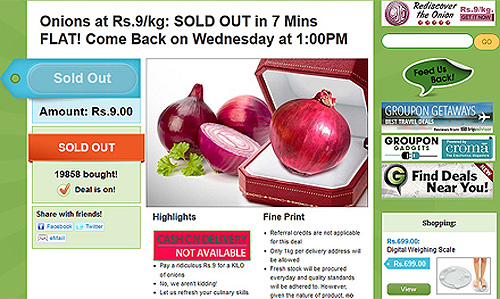 The Rs 9 price tag, as well as the tongue-in-cheek attitude, went down well with the public, creating a stampede-like situation online, causing the Groupon website to crash.
Clearly, the company got more than it bargained for, but it was not complaining, having generated a huge attention-grabbing spectacle and putting itself at the centre of a subject that all of India was talking about.
"We were discussing how expensive vegetables are and then we thought let's run a deal on onions. We wanted a crazy choice... for fun," Ankur Warikoo, CEO, Groupon India, said.
This was the first deal involving onions for the online portal, which essentially offers discounts to shoppers on restaurant deals, fashion accessories and movie tickets.
Al Jazeera reported that Groupon, managed to sell 3,000 kilograms in just 44 minutes of frenzied buying and that overall 8,000 kilograms were sold to 17,065 users before stocks ran out - customers were restricted to just one kilogram, which was again harking back to the bygone era of the 1970s and 1980s when rationing was imposed on much of everything that Indians bought, from cereals