Physical buying shores up global prices by 2% after Monday's mayhem; investors cautiously optimistic on future direction
Domestic consumers scrambled to buy gold on Tuesday to take advantage of a recent drop in prices, reflecting underlying demand for the precious metal ahead of the wedding season next month. Jewellers say an about 10% drop in prices since Friday has driven up sales by 15-20% while gold loan providers rule out any significant risk to business as they always factor in some fluctuations.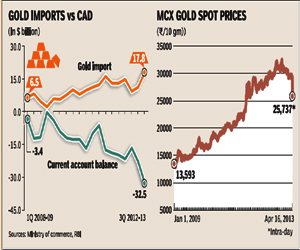 Domestic prices crashed after gold hit a two-year trough on Monday in overseas markets, which have now dropped more than 10% in the last two sessions, reviving demand in India and China, the world\'s top buyers of bullion. Gold prices have lost close to 26% since hitting the record level of $1,920.30 an ounce in September 2011, attracting buyers and sending premiums for gold bars to a 16-month high in Asia.
Consequnetly, spot gold prices overseas rose more than 2% to around $1,390 an ounce in intraday trade after crashing 8% on Monday. The precious metal hit $1,321.35 an ounce earlier on Tuesday —its lowest since January 2011—before a surge in physical buying due to the price fall helped reverse the slide.
"The correction in gold prices is positive news for domestic retailers and manufacturers as it makes jewellery more affordable for consumers. More enquiries from customers have been witnessed in the last 3-4 days and more sales have taken place," Sanjeev Agarwal, chief executive at Gitanjali Export Corporation, told FE. "If prices remain around this level, demand will go up. Plus, there are times in a year, including Akshya tritiya, Dhanteras, Diwali and the wedding seasons, when domestic demand goes up despite a rise in gold prices. So, the long-term propects of Indian demand remain robust," he added.
Jewellery makes up for around 65% of India\'s and 43% of global gold demand. Any sharp fall in prices could revive seasonal demand in India, which usually plays a key role in driving global demand but has been hit this year by a depreciation of the rupee and an