Banks could raise their lending rates following RBI's monetary policy announcement on Friday as tight liquidity could increase cost of funds.
"The busy season has started. So, there is a huge credit demand and banks are scrambling for deposits. Deposit rate, I think, will go up and, accordingly, lending rates can also go up,Ē said SBI chairman Pratip Chaudhuri, immediately after newly appointed RBI governor Raghuram Rajan announced the monetary policy. The central bank announced a 75-bps reduction in marginal standing facility (MSF) for banks to 9.5%, while hiking repo rate by 25 bps to 7.5%.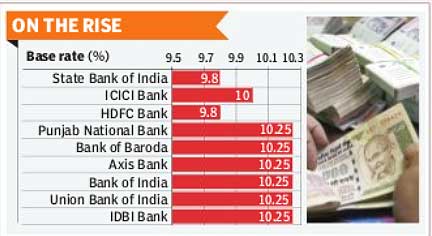 RBI also said that banks will have to now maintain 95% of the cash reserve ratio (CRR) requirement on a daily basis against 99% earlier.
While the measures are cumulatively expected to reduce the cost of bank borrowings from the RBI and the market, they may fail to negate the impact of tight liquidity conditions emerging from a recent pick-up in credit growth.
"Base rates may rise, but not because of the policy, but because people have taken one-year deposits at 10.5%; short-term deposits are even higher than that. So, that cost might be reflected in the base rate," said HDFC Bank MD & CEO Aditya Puri.
Credit growth has been steadily rising over the last three fortnights and touched 18% as higher yields in corporate bond market have pushed companies to borrow from banks instead of non-convertible debentures (NCD) and commercial paper (CP). Non-food credit grew at the fastest pace in over a year at 18.40% y-o-y to R55,11,822 crore for the fortnight ended September 6. Experts say the current steps may reduce short-term rates, but will jack up long-term rates by 15-20 bps.
Large banks such as SBI, ICICI Bank, Axis Bank and HDFC Bank have already raised lending rates, owing to the increased cost of funds. SBI raised its base rate on Thursday by 10 bps to 9.8%, while ICICI Bank and Axis Bank had raised their's by 25 bps each to 10% and 10.25%, respectively, last month. HDFC Bank had also raised its minimum lending rate by 10