How much does 'excess aggregate demand' explain the worsening?
We had written about India's large and troubling current account deficit (CAD) in early January and how the theories of currencies and finance seem to be failing in India. One would have thought a priori that the massive depreciation of the rupee would have set in motion 'automatic stabilisers' to narrow the deficit, through making exports more competitive and imports costlier. Since then, things have only got worse, although the rupee has stabilised at relatively weak levels. On the face of it, India's CAD will probably end up being more than 5% of GDP this year, much worse than last year's 4.2% (although there is an ambiguous element in this statistic, as we will see later).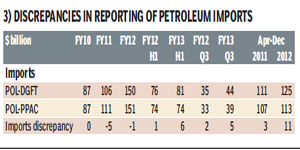 A description of CAD's deterioration first. CAD in the first six months of FY13 was $2.5 billion higher than the corresponding period of FY12 (no big deal of itself), caused by a $1.1 billion increase in the merchandise trade deficit and a $1.4 billion drop in the invisibles surplus (rounding shows up as small discrepancies). The trade deficit increase, even as imports fell $10.4 billion, was caused by a $11.7 billion drop in exports. The drop in the invisibles surplus was due to a small $800 million drop in net services exports, while an increase in private remittances more or less balanced out an increase in payments of interest and royalties (see table 1). The most alarming aspect of the CAD deterioration, then, was a drop in merchandise exports.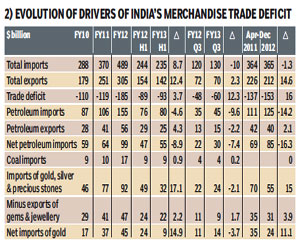 Zeroing in on the trade component, the trade deficit (based on commerce ministry data, slightly different from RBI data) increased by $3.7 billion in the April-September FY13 quarter (compared to the first six months of FY12), due to $12 billion lower exports and $9 billion lower imports. Of the $9 billion higher imports, petroleum imports increased by $5 billion while gold (and silver and precious stones) imports fell by $17 billion, leading to the two combined resulting in a drop of $12 billion. Therefore, imports of other commodities would have increased