CIL production crosses target on govt pressure
Noor Mohammad: New Delhi, Nov 23 2012, 01:06 IST
After two stagnant years, April-September coal output posted a robust growth of 8.5%. Public sector Coal India (CIL) and private players with captive mines ramped up production after a worried government put them on notice.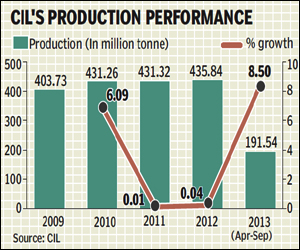 CIL exceeded its production target in the first half. If the trend continues, the pressure on the coal import bill may ease, helping reduce the country's trade deficit. Coal shortage has put several power sector projects on hold.
"About six months ago, the government started putting pressure on CIL to raise production and held out the threat of cancellation over companies sitting on captive mines. As a result, private players sitting on blocks for years started mining," said BK Chaturvedi, member (energy), Planning Commission.
CIL, which reported almost nil production growth in the past two financial years, saw production rising 8.5% to 191.54 million tonnes in the first half of this year. During August-September, growth was even higher at 10%.
CIL chairman S Narsing Rao attributed the improvement to proactive production monitoring by the company. "We have stepped up mine-wise monitoring. All our subsidiaries could manage their production better this year," Rao told FE, adding the company will achieve its production target of 468.78 million tonnes this year.
The government has directed CIL to meet at least 80% of the coal requirement of power companies under a new fuel supply agreement regime and import coal to meet the shortfall. Efforts are under way to work out a pool pricing mechanism to help the PSU pass on