Cautious RBI signals just a 25 bps rate cut
fe Bureau: Mumbai, Jan 29 2013, 05:58 IST
Although core inflation pressures have eased dramatically, and the Reserve Bank of India (RBI) feels they are "unlikely to re-emerge quickly", concerns over the ever-widening current account deficit (CAD) might prompt the central bank to limit a cut in policy rates to 25 basis points when it meets to review monetary policy on Tuesday.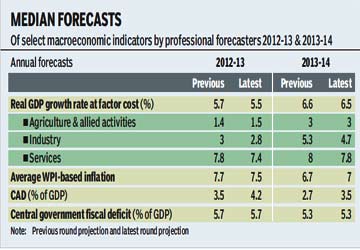 In its macro review on the eve of the policy, the RBI concludes: "The balance of macroeconomic risks suggest continuation of the calibrated stance while increasingly focussing on growth risks." While this suggests a rate cut, the RBI's cautious approach is highlighted when it says "the scope for supportive monetary policy action is constrained".
The Reserve Bank's review acknowledges demand slowing in most areas and that the fiscal situation looks better "due to the government's repeated avowal of commitment to the revised fiscal deficit target of 5.3% of GDP". Yet the dramatic surge in the CAD, from 3.9% in the first quarter of 2012-13 to 5.4% in the second quarter and the likelihood of this rising even more in the third will leave the country vulnerable to large external shocks.
Given how the CAD continues to rise despite the contraction in non-oil and gold imports, any sharp rise in demand resulting from a large rate cut could lead to a worsening of the CAD. And given how foreign direct investment (FDI) now finances just a fourth of the CAD, down from more than 100% in 2007-08, the RBI pegs a sustainable CAD at 2.5% of