Snapping a four-day long losing streak, BSE Sensex today surged 407 points, the biggest daily jump in nearly 2 months, on value-buying in metal sector shares like Tata Steel and Sesa Goa, amid robust China manufacturing data and a positive trend in European markets. Stock markets ignored the continued fall of the Indian rupee against the US dollar, which hit yet another all-time low of 65.5 to the American currency.
The Sensex, which had tumbled over 1,400 points in past four trading sessions, fell to 17,759.59 at the outset but bounced back by 407.03 points, or 2.27 per cent, to end at 18,312.94. Investors were richer by Rs 1.17 lakh crore today.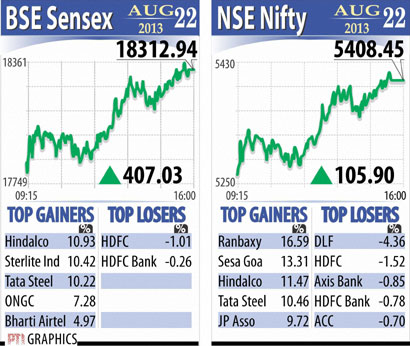 On similar lines, the broad-based NSE Nifty surged by 105.90 points, or two per cent to 5,408.45, after dipping below 5,300. Also, SX40 index, the flagship index of MCX-SX, closed 199.44 points up at 10817.88.
Quote: Multi Commodity Exchange of India Ltd (MCX)
Brokers said the current rally was backed by metal stocks after a manufacturing index in China, the biggest consumer of metals, increased in August from an eleven-month low.
They said higher opening in European stock markets as manufacturing in Germany expanded at a faster-than-expected pace, further influenced the Indian market sentiment.
"This relief rally should not be taken as buying indicator and caution be maintained for long positions," said Nidhi Saraswat, Senior Research Analyst, Bonanza Portfolio.
The metal sector index gained the most by rising 8.23 per cent to 7,739.26 as Tata Steel shot up by 10.22 per cent to Rs 273.30, Sesa Goa by 13.10 per cent to Rs 155.45, Hindalco Industries Ltd by 10.93 per cent to Rs 103.55, Sterlite Industries by 10.42 per cent to Rs 87.45 and Jindal Steel by 4.89 per cent to Rs 231.45.
The three most influential Sensex stocks, with nearly 20 per cent weight, shone bright in today's trade. RIL shot up by 2.81 per cent to Rs 805.85, Infosys by 2.37 per cent to Rs 3,023.30 and ITC by 2.58 per cent to Rs 307.95.
In 30-share Sensex, 28 stocks gained while HDFC Bank and HDFC Ltd ended with losses.
CLSA sees NSE Nifty plunge from 5,500, support at 4,916, Indian rupee at Rs 68
Anindya Banerjee, Currency Analyst, Kotak Securities:
"A deep oversold Indian equities and uptick in the European bourses provided the uplift to Indian stocks, which has clocked gains of 2% on the broad indices.
Expectation that government could lift ban on mining propped the banking shares upward. The weakness in the Rupee, which touched a fresh life time low against the USD at 65.56 did not have much impact on the equity markets, beyond intra-day volatility. Over the near-term we see 65.50/60 as a supply point on the Dollar/Rupee, so as long as it holds, a range of 64.00 to 65.50 could unfold. However, a break above 65.60 could expose 66.50/67.00 levels."
Indian shares snap 4-day losing streak; foreign flows key
(Reuters) Indian shares surged more than 2 percent on Thursday, snapping a four-day losing streak, as metal stocks rallied on China's improved manufacturing data, while blue chips rose on value buying.
Stocks battered in each of the last four days marked their biggest single-day percentage gain in nearly two months, after an upbeat reading on China's manufacturing sector, followed by a recovery in the rupee from a record low of 65.56 hit earlier in the day.
However, traders remain wary of foreign flows and rupee volatility at a time when overseas investors who had been net buyers of Indian stocks in 2013 sold a net $500 million worth of shares in the four sessions through Wednesday.
"There is no panic selling by foreign investors yet, but certainly if that happens then it may weigh on equity and currency, which may feed on each other," said G. Chokkalingam, managing director and chief investment officer at Centrum Wealth Management.
The equity market does not have adequate depth to absorb selling of even $1 billion to $2 billion by FIIs, added Chokkalingam.
The benchmark BSE index ended up 2.27 percent, or 407.03 points, at 18,312.94, after hitting its lowest intraday level in nearly a year.
The broader NSE index rose 2 percent, or 105.90 points, to end at 5,408.45, closing above the psychologically important 5,400 level.
Shares in metal companies surged on expectations of a pick-up in China after HSBC said its preliminary purchasing managers' index rose to 50.1 in August, a four-month high and just above the 50 level that separates growth from contraction.
Tata Steel Ltd jumped 10.5 percent, while Hindalco Industries Ltd surged 11.5 percent.
Sesa Goa Ltd, the Indian unit of oil and mining group Vedanta Resources Plc, gained 13.3 percent on inclusion in India's benchmark index in place of another group unit Sterlite Industries Ltd.
Sesa Goa said on Saturday its merger with Sterlite Industries and the group's various Indian arms to create a single unit has become effective. Sterlite Industries also rose 10.2 percent.
Among blue chip shares, ITC Ltd rose 2.4 percent on value buying after falling nearly 10 percent in the four sessions to Wednesday, while Bharti Airtel Ltd rose 4.8 percent.
IT shares also rose on hopes of improving realisations after the rupee hit a record low of 65.56 to the dollar.
Infosys Ltd rose 2.1 percent, while Tata Consultancy Services Ltd gained 3.6 percent.
However, among stocks that fell, Yes Bank Ltd dropped 4.9 percent on fears of foreign selling. FIIs hold about 46 percent stake in the bank, exchange data shows.