After an initial rally, the benchmark S&P BSE Sensex crashed another 340 points today to the lowest closing level in more than 11 months as the Indian rupee continued to freefall against US dollar, logging another record low.
The Indian rupee continued its downslide for the fifth trading day in a row, dropping to 64.52 against the US dollar in afternoon deals, amid fresh measures announced by the Reserve Bank of India (RBI) yesterday to increase the availability of cash in the banking system.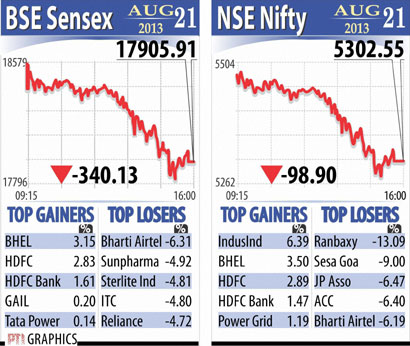 The 30-share BSE Sensex opened at 18,545.44 and rallied more than 300 points from yesterday's close to a high of 18,567.70 before declining to a low of 17,807.19. It closed at 17,905.91, a loss of 340.13 points, or 1.86 per cent, the lowest level since Sept. 11, 2012.
In four days, the BSE Sensex has plunged by 1,461.68 points or 7.55 per cent.
NSE Nifty dropped 98.90 points, or 1.83 per cent, to 5,302.55. The SX40 index on the MCX-SX closed at 10,618.44, down 1.95 per cent.
Multi Commodity Exchange of India Ltd (MCX)
Multi Commodity Exchange of India Ltd (MCX)
Brokers said market sentiment was hurt by sustained weakness in the Indian rupee and expectations the US Federal Reserve would start withdrawing its bond-buying programme next month.
"The fall was led by selling in index heavyweights. This coincided with further weakness in the Indian rupee," said Sanjeev Zarbade, Vice President, Private Client Group Research at Kotak Securities. "The market is now awaiting the Fed meeting notes to be released today for fresh clues on when the central bank plans to taper its monthly bond purchases."
Bharti Airtel, Sun Pharmaceuticals Industries, Sterlite Industries, ITC Ltd and Reliance Industries (RIL) led the losers on the BSE Sensex, while Bharat Heavy Electricals Ltd (BHEL), HDFC and HDFC Bank gained. ITC and Reliance Industries together contributed 176 points to the index decline.