The BSE Sensex today fell 42 points after an intra-day rally that took it past the 21,000 mark for the first time in almost three years fizzled out in the afternoon as IT stocks declined as market trends did a virtual U-turn.
Tata Consultancy Services (TCS), Reliance Industries (RIL), Wiproand Infosys Ltd were the biggest drag on the index. Coal India, Jindal Steel & Power Ltd and Bharat Heavy Electricals Ltd (BHEL) were among the major losers as 19 shares on the Sensex declined.
Among the sectoral indices, IT, power, realty and metal retreated.
*Stocks: Top Gainers and Top Losers
The 30-share S&P BSE Sensex opened little changed and surged to 21,039.42, crossing the 21K mark after 35 months on buying in auto, banking, consumer durables and oil and gas sectors on the back of persistent foreign capital inflows.
The index then retreated and closed at 20,725.43, a drop of 42.45 points or 0.20 per cent. The BSE Sensex was last above 21,000 on Nov 8, 2010.
"IT is in correction mode for short term but will ultimately outperform if one has view of more than 3-6 months," said Rakesh Tarway, AVP Research, Motilal Oswal Securities. "There will be some buying in beaten down sectors of infra, banking. Apart from this, media will do well."
The NSE Nifty on the National Stock Exchange moved down 14 points, or 0.23 per cent, to 6,164.35. The SX40 on the MCX Stock Exchange closed at 12,331.32, down 7.5 points.
Brokers said investors judged the rally was overdone. A section of the market booked profits after disappointing earnings led by Jet Airways and Ambuja Cements, they added.
Shares of PSU banks gained after the Ministry of Finance said after trading hours yesterday that the government has approved infusion of Rs 14,000 crore in 20 lenders.
Overseas investors pumped in a net Rs 644.80 crore in shares yesterday, according to preliminary data from the stock exchanges.
Most Asian markets ended higher after a measure of Chinese manufacturing hit a seven-month high. Key indices in South Korea, Singapore, Taiwan and Japan rose while indices in China and Hong Kong fell.
European markets were higher in early trade as indices in France, Germany and UK moved up.
In the domestic market, 10 Sensex shares gained while Sesa Sterlite was unchanged.
The major losers on the index were Wipro (-4.25 pc), Coal India (-3.25 pc), TCS (-2.52 pc), Jindal Steel (-1.85 pc) and BHEL (-1.68 pc).
The gainers included Mahindra & Mahindra, which rose 2.59 pc, followed by Larsen and Toubro 1.83 pc, GAIL India 1.49 pc, HDFC Bank 1.34 pc and Tata Motors 1.28 pc.
Among the sectoral indices S&P BSE IT dropped 1.77 pc, followed by S&P BSE Teck 1.53 pc, S&P BSE Power 1.14 pc and S&P BSE Realty 1.12 pc.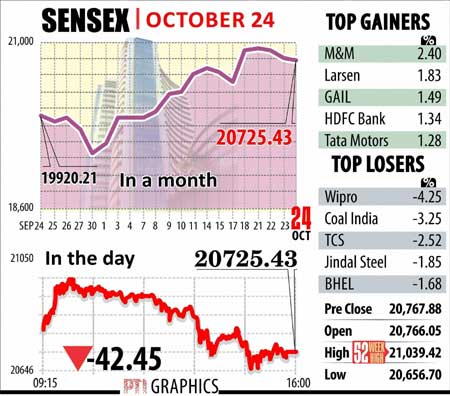 However, S&P BSE Capital Goods firmed up 1.15 pc, followed by S&P BSE Auto 0.61 pc and S&P BSE Consumer Durables 0.49 pc.
The market breadth remained negative as 1,298 shares ended with losses, 1,191 closed with gains and 184 ruled steady.
Total turnover at the BSE dropped to Rs 2,073.26 crore from Rs 2,227.47 crore yesterday.
Sanjeev Zarbade, Vice President- Private Client Group Research, Kotak Securities: The Sensex opened on a strong note despite negative global cues. A sharp drop in crude oil prices may have aided market sentiments. However, the gains were shortlived as the rally evaporated by the middle of the trading session. We note that the Indian market has been outperforming its global counterparts helped by revival in FII flows and an extension in QE3 withdrawal timeline. Apart from this, corporate numbers from the ongoing results season has also been better than expected, which has kept the momentum going. In the coming weeks, Fed and RBI monetary policy meeting and the state election results would be closed watched.
Indian shares retreat from near 3-year highs on profit-taking
(Reuters) India's benchmark BSE Sensex index retreated on Thursday from a near three-year high of above 21,000 on profit-taking, with software exporters including Tata Consultancy Services taking the brunt of the selling.
The BSE Sensex touched 21,039.42 before slipping in the red for the day. The last time it was above 21,000 was on Nov. 8, 2010. The index's all-time high is 21,206.77, hit in January 2008.
Shares have benefited from a return of global risk appetite as poor U.S. data has pushed back expectations of any tapering of the Federal Reserve's monetary stimulus until 2014.
Foreign investors have continued to buy local shares, remaining net buyers for a 14th consecutive session. Provisional exchange data showed a net purchase of 6.44 billion rupees ($104.55 million) on Wednesday, bringing the total to about 117.34 billion rupees during that period.
However, investors are also taking the opportunity to book profits especially on recent outperformers.
"India's economic fundamentals are not supporting the market, allocations just due to global factors are not justified. At some point that money will also find it difficult to allocate further," said Aneesh Srivastava, chief investment officer at IDBI Federal Life Insurance.
Beyond 21,000 valuations become very difficult to justify, Srivastava added.
The focus is now on the central bank's policy review on Oct. 29, at which it is expected to raise its key rate by 25 basis points. Five key states are also slated to go for elections in November and December, ahead of general elections due by May.
The benchmark BSE index fell 0.2 percent, or 42.45 points, to end at 20,725.43, after earlier rising as much as 1.3 percent.
The broader NSE index fell 0.23 percent, or 14 points, to end at 6,164.35, falling for a third consecutive session.
In IT shares, Tata Consultancy Services Ltd fell 2.5 percent, Wipro Ltd lost 4.4 percent, while Infosys Ltd ended 0.5 percent lower on profit taking.
The NSE index for IT shares had risen 44.8 percent in 2013 compared with the NSE index's returns of 4.4 percent as of Wednesday's close.
Among other blue chip companies, Reliance Industries fell 1.4 percent after gaining as much as 1.6 percent earlier in the day.
Hindustan Unilever Ltd fell 0.8 percent after Unilever on Thursday reported slower sales growth for the third quarter, providing further evidence that a slowdown in emerging markets is hitting demand for its consumer goods.
Jet Airways fell 1.7 percent after the company reported its worst quarterly loss on Wednesday, squeezed by high fuel costs and a weaker local currency.
Ambuja Cements Ltd fell 1.3 percent and ACC Ltd lost 0.2 percent after the cement makers reported lower-than-expected July-September earnings.
Exide Industries Ltd shares fell 1.6 percent adding to Wednesday's 2.2 percent decline after the company said its September-quarter net profit fell 1.3 percent to 1.19 billion rupees.
However among shares that rose, IPCA Laboratories Ltd ended 2.1 percent higher after the company said its July-September profit rose 3.5 percent to 1.29 billion rupees.
FACTORS TO WATCH
* Euro pares gains after PMI data
* Oil stabilises on strong Chinese economic data
* Chinese data helps shares rebound, euro pares gains
* Foreign institutional investor flows
HIGHLIGHTS
* BSE index falls 0.2 pct; NSE ends 0.23 pct lower
* BSE index tops 21,000 intraday for first time in nearly 3 years
* Foreigners buy shares for 14th consecutive session
* Market awaits cbank policy review on Oct. 29