We maintain our 'buy' rating on Britannia Industries with a revised target price of R1,000 based on sum-of-the-parts (SOTP) methodology, valuing the stock at 26x (times) standalone EPS (earnings per share) plus 13x subsidiaries' EPS. The stock trades at 28x FY14e (estimates) and 23.7x FY15e revised EPS estimates is at 20% discount to its FMCG peers. Given the underlying improvement in Britannia's fundamentals, we expect the re-rating to sustain.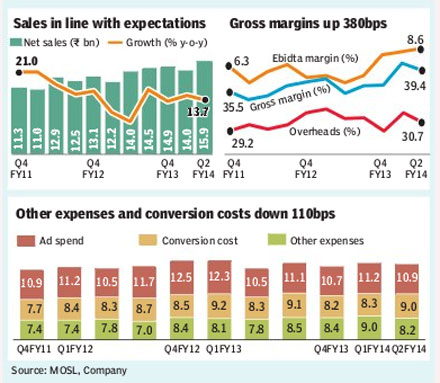 Valuation and view: The third consecutive quarter of high quality Ebitda growth belies the street's concerns on the one-off nature of margin expansion posted in earlier quarters. We like the company's disproportionate focus on driving premium portfolio and rationalisation of low margin/regional SKUs (stock keeping units). We expect gross margins to expand 320 bps over FY13-15e primarily driven by benefits from premiumisation. We are now building in 300 bps operating margin expansion over FY13-15e to 8.8%. Stock has delivered significant outperformance (outperformed BSE FMCG and Sensex by 70% and 66%, respectively, year-to-date) on the back of strong quarterly performance since Q4FY13. We expect the premium valuations to sustain as Britannia reaps the benefits of its premiumisation plus cost containment strategy over the medium term.
Earnings revision: We are revising our estimates upwards by ~15% for FY14e and FY15e to incorporate the H1 beat versus our expectations. We are estimating a 37.4% EPS CAGR (compound annual growth rate) over FY13-FY15e.
Q2FY14 results: Britannia Industries Q2FY14 results were well ahead of our estimates. Adjusted PAT more than doubled and grew 110% to R957m (estimated R768m).
Sales in line with estimates: Stand-alone sales grew 13.7% to R15.94 bn (estimated R15.9 bn); volume growth estimated at 5-6% while realisation and mix improvement contributed the rest. Consolidated sales posted 13% y-o-y growth to R17.4 bn. Subsidiary sales posted a muted 4% y-o-y growth.
Standalone gross margins expand 380bps: Gross margin expanded 380 bps y-o-y to 39.4% driven by premiumisation as well as price hikes. The management had earlier enunciated its strategy of de-focusing on smaller and less profitable SKU's. Other expenses declined 40 bps, adspends declined 20 bps while conversion costs