Indian rupee is unlikely to get any "meaningful benefit" from the Reserve Bank of India's (RBI) most recent measures as the key to support the currency is boosting forex inflows, Barclays said in a research note - Indian rupee hit yet another low today, falling under Rs 65 against the US dollar.
According to the global financial services major, the two main concerns that have driven the rupee's weakness in recent weeks expectations of Fed tapering and India's ability to fund its current account and fiscal deficits will continue to hit sentiment.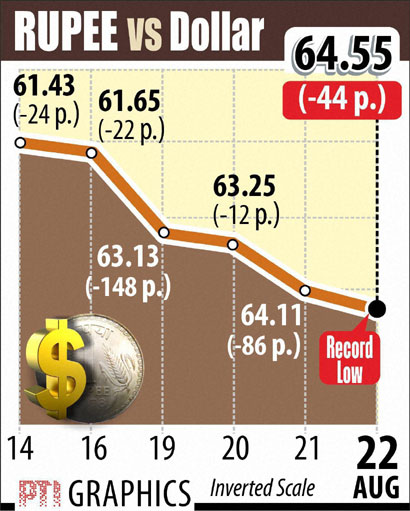 Currently, the key to support the rupee is boosting near-term forex inflows. This would help to arrest negative sentiment toward the rupee, reverse part of the recent bond outflows, and curb near-term rupee weakness, it said.
"Issuance of forex-denominated bonds or a deposit scheme targeting nonresident Indians (NRIs) remain the most potent options, in our view," Barclays said.
Next stop 66? Offshore bets on Indian rupee remain bearish
These programmes could attract USD 15-20 billion of inflows relatively quickly and provide much needed breathing space for policymakers to address India's long-term structural problems, it added.
"Policymakers, however, still remain reluctant to introduce these schemes," Barclays said.
Meanwhile, the RBI has partially eased its recent tightening measures, reverting to purchases of government bonds under its open market operations (OMOs), as well as offering temporary relief to banks' bond investment and liquidity maintenance requirements.
"Measures to improve liquidity in Indian rates markets are positive for government bonds, although the impact on the the rupee is more ambiguous," Barclays said.
It further noted that the tightening measures implemented in stages since July 15 were unduly harsh on market liquidity and interest rates without providing commensurate support for the rupee.
"In fact, we felt the measures had a high risk of being counterproductive, and, in the event, they failed to support the INR," it said.
Meanwhile, notwithstanding the fact that the rupee is on a free fall, and is currently hovering around 65 per US dollar level, Barclays expects the currency at USD/INR 61