Bolivia writes growth script with India in lead role
Huma Siddiqui: Dec 13 2012, 02:28 IST
Bolivia is looking to extend its footprint in South Asia and India is big on its expansion list. The South American country is setting up an embassy in New Delhi and it will follow it up with consulates in Mumbai and other key metros in the country.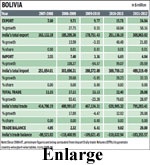 "For our country, ties with the south are very important and that is what we'll be concentrating on. While we are interested in connecting with other countries in the region, India, an emerging economic power in the region, is with who we want to establish strong relations," Jorge Cardenas Robles, ambassador of Bolivia to India told FE in his first-ever interaction here.
"President Eva Morales, Bolivia's first president, is of Indian descent and we are culturally very rich. This will surely give me an opportunity to show what my country can offer to India and I would invite the Indian industry honchos to visit our country," he added. "Bolivia is looking for a free-trade agreement with India. And for this the government is in the process of improving laws and the rights of water."
"Besides going regional and working with countries under various groupings including CELAC and Mercosur, we are looking forward to not only working with state governments but are also keenly looking towards working with the SMEs," Robles said.
Mercosur – a grouping of Argentina, Brazil, Uruguay, Paraguay — was suspended because of its removal following the political impeachment of Fernando Lugo from presidency and Venezuela's admission