Banks remain net sellers in Indian equities for 8th year
Ankit Doshi: Mumbai, Nov 21 2012, 00:07 IST
Have sold R132 crore worth of equities so far in CY12
Using every rally as an opportunity to exit the market, banks continued to emerge as net sellers in Indian equities for the eight consecutive year in calendar year 2012. According to data available on the BSE, banks have net sold R132.56 crore worth of Indian equities so far this year — the highest in two years. In CY11, banks sold a meagre R94 lakh worth of Indian equities.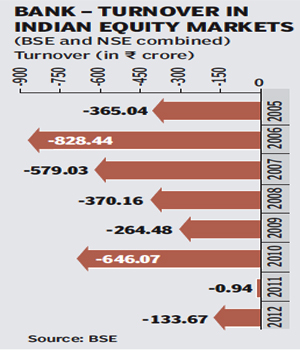 Bankers managing in-house portfolios said that banks and financial institutions were risk-averse to Indian equities and continued to have a bearish view on the markets. This selling pressure could be attributed to banks' decision to book profits on every rally to safeguard their investments, they said.
"Banks are not natural traders in Indian equities. Even as foreign institutional investors shopped for Indian equities, banks saw the rallies as an opportunity to sell and book profits," said P Mukherjee, president, treasury & international banking, Axis Bank.
Banks were liquidating their investments as the domestic and global economic situation was not favourable for investment, and earnings growth remained muted, said another banker who did not wish to be identified. According to Reserve Bank of India guidelines, banks are allowed to park 40% of their total net worth in Indian equities.
A further look at the data showed banks sold the highest value of Indian equities in 2006 (R828.44 crore) when the BSE Sensex gave returns of over 45%, followed by 2010 (R646.07 crore) when