Banking Bill set to sail through
fe Bureau: New Delhi, Dec 13 2012, 03:10 IST
Finance minister P Chidambaram on Wednesday held out an olive branch to the Opposition on key reform Bills listed for passage in the current session of Parliament, discussing the issue with two senior BJP leaders, Sushma Swaraj and Arun Jaitley. Chidambaram later claimed to have reached an understanding with the two leaders on the "urgent need" to get these Bills approved by the House and indicated a consensus was in sight on the banking regulation Bill.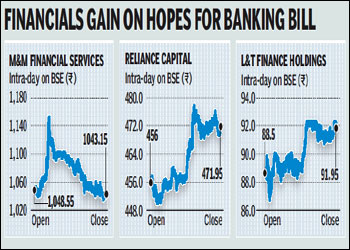 With only six days left to go in the winter session, Chidambaram's initiative is seen as a last-ditch effort to push through financial sector Bills, particularly those relating to the banking, insurance and pension sectors. Swaraj and Jaitley are the leaders of the opposition in the Lok Sabha and Rajya Sabha, respectively.
"I have discussed all five economic reforms Bills with two leaders of opposition (Swaraj and Jaitley). They understand the urgency," Chidambaram said, adding: "I told them (the Opposition), let me pass the banking Bill and I will come back to you over the weekend and discuss the insurance Bill."
Chidambaram's move comes close on the heels of rating agency Standard and Poor's saying on Tuesday that India's large fiscal deficit and the heavy debt burden were the "most significant rating constraints". Both S&P and Moody's accord ratings just above junk status to India right now and a rating downgrade is seen to be imminent if budget deficits are not tamed.
Despite the limited time left in the current session, Chidambaram expressed the