Axis Bank plans QIP to shore up Tier-I capital
fe Bureau: Mumbai, Jan 29 2013, 00:41 IST
Axis Bank on Monday issued a qualified institutional placement (QIP) to raise around R5,450 crore that will bolster its Tier-1 capital.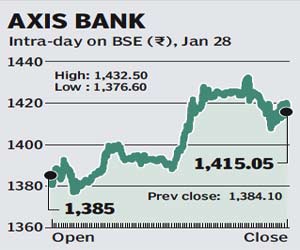 The private sector lender will reportedly place 3.90 crore shares to institutional investors. Through discussions with merchant bankers involved in the QIP process, it could be ascertained that the price band is likely to be in the range of R1,390-1,410 per share.
"The price band is as per the Sebi formula. It has to be closer to R1,400 based on recent stock performance," said an investment banker working on the issue, requesting anonymity.
In August 2008, capital market regulator, Securities and Exchange Board of India (Sebi) declared a new formula on QIPs, under which the floor price for would be average of the two weeks' closing price.
The Axis Bank stock rose 2.24% at the BSE on Monday to close at R1,415.05. The stock has gained close to 20% over the last three months on the BSE, Bloomberg data showed.
According to reports, the QIP will lead to around 9% dilution in Axis Bank's equity. At the end of December, promoters held a 35.53% stake in the bank, foreign institutional investors (FIIs) 34.83%, domestic institutional investors (DIIs) 11.08% and others 18.56%.
The proceeds will be used to strengthen the bank's balance sheet.
Earlier in December, Axis Bank's board of directors announced its decision to raise the Tier-1 capital of the bank by issuing equity shares not exceeding 4.58 crore share through global depositary receipts (GDRs), QIP and a preferential issue to promoters of the