The latest set of rules for independent directors — laid out in the Companies Act, 2013, and reaffirmed by the Securities and Exchange Board of India (Sebi) — disallows independent directors from participating in employee stock ownership plans (Esops). Even without owning shares, however, independent directors seem to be raking it in.
Independent directors on the boards of Nifty 50 companies for instance, on average make Rs 21.13 lakh a year; some companies paid Rs 75 lakh per annum. Ranbaxy Laboratories Ltd, which has two foreigners on its board — Anthony H Wild and Akihiro Watanabe — paid four of its independent directors Rs 1 crore each as commission apart from sitting fees. Software giants Infosys and Tata Consultancy Services (TCS) pay their independent directors close to Rs 82 lakh on average. The law allows a company to pay up to 1% of its net profit to independent directors as commission apart from the sitting fees, which are restricted to Rs 20,000 per board/committee meeting.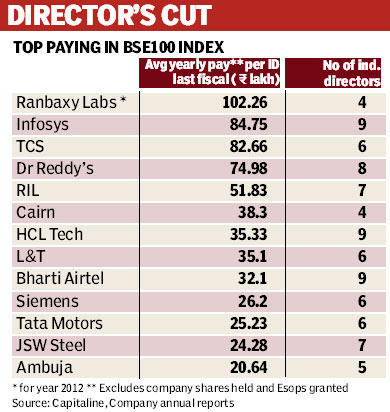 Prime Database CMD Prithvi Haldea believes companies that want to use the experience, domain knowledge or networking skills of professionals have to offer high commissions. Independent directors on the boards of public sector undertakings earn a relatively smaller sum.
The data mined from a universe of the top 100 companies shows it is about Rs 2.82 lakh per annum. Typically, PSU companies do not pay commissions, just sitting fees.
While not too many independent directors own shares under Esops currently, a few do. Deepak Satwalekar, who recently stepped down from the board of Infosys, had 56,000 shares as on March 31, 2013, which at current prices are worth Rs 20.83 crore. Satwalekar, of course, earned a remuneration of Rs 51.4 lakh from Infosys. Similarly, Mansingh L Bhakta, earlier an independent director at Reliance Industries, had 3.2 lakh shares of RIL at end of March 2013 and these are currently valued at Rs 25.98 crore. With the rules now not permitting independent directors to own Esops, the debate on whether there's