Stung by the Indian rupee's recent collapse, Reserve Bank of India (RBI) is taking a carrot-and-stick approach to curb trade in the offshore forwards market that is seen as a key source of wrenching currency volatility.
Indian rupee drops for second day, weak shares hurt
However, with no viable alternative to trading in non-deliverable forwards (NDF) involving the rupee, the strategy is likely to have only a limited impact.
Inflation vigil hurts Indian rupee, bond markets
The RBI recently met with a handful of foreign banks and asked them to stop acting as market-makers for rupee NDFs, according to three bankers involved in the discussions.
At the same time, it has held out the promise of easing restrictions to allow greater participation in the onshore forex market by overseas participants.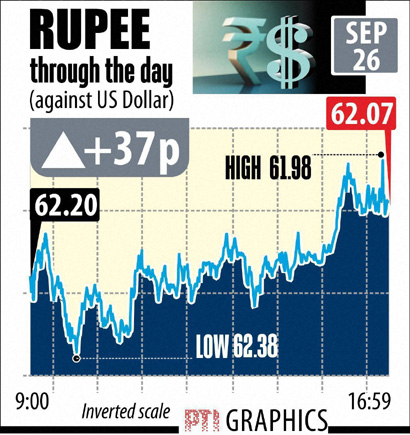 "They are saying that if you are a big pension fund or a large hedge fund, come to India and we will provide you with all the dollar liquidity that you need rather than going to the NDF markets," said the head of trading at a U.S. bank in Hong Kong, who did not want to be named.
Still, those promises have remained largely unfulfilled, and faced with an economy growing at a decade-low speed and a yawning current account deficit, traders have often turned to the offshore market to bet against the rupee.
While Indian regulations forbid offshore rupee trading by local entities, the rules are easily skirted.
For example, a company with overseas operations can take opposing rupee positions on and offshore -- the latter beyond the purview of the RBI but perfectly legal overseas.
Global funds cannot rebook a forward contract onshore once cancelled, and foreigners are not allowed to trade in local currency futures despite a promise in February to let them in.
New RBI chief Raghuram Rajan, who took office Sept 4, said the bank will look to ease restrictions once the rupee stabilises.
"We have to make sure that we provide deep and functioning markets so there is no need to establish a parallel market outside," he said last week, without