The higher-than-expected price of Apple Inc's new cheaper iPhone eased worries about gross margins, while arousing concerns the company was not being aggressive enough in its fight against Google Inc's market-dominating Android operating system.
Apple's shares were down about 3 percent at $480.50 before the market opened on Wednesday, a day after it unveiled the 5S, a high-end iPhone with a fingerprint scanner as well as a cheaper 5C model targeted at emerging markets.
"...We worry that Apple's inability/unwillingness to come out with a low-priced offering for emerging markets nearly ensures that the company will continue to be an overall share loser in the smartphone market until it choses to address the low end," Sanford C. Bernstein analysts said in a note.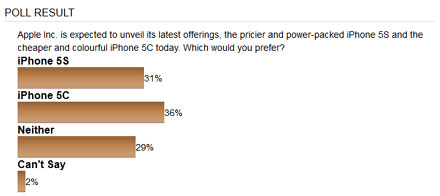 Still, Bernstein maintained its "outperform" rating on Apple's stock, saying that it expected the new iPhones to have little impact on gross margins.
Nomura Equity Research analyst Stuart Jeffrey, who raised his price target for Apple shares to $480 from $420, said Apple may have ensured stable margins for the next couple of quarters by pricing the 5C at $99 with a contract and $549 without.
This was not enough for BofA Merrill Lynch and Credit Suisse. Both downgraded Apple's stock to "neutral" from "buy" and "outperform."
"Rather than offer attractive pricing for consumers, and move the iPhone 5c into a new and growing price segment, Apple retained a premium pricing strategy in targeting the $400-800 smartphone segment," Credit Suisse analyst Kulbinder Garcha said in a note.
"This segment is not forecast to see meaningful growth long term. This decision, at the margin, is good for profitability but not growth."
Garcha said that Apple's share of the smartphone market, where it faces intense competition from Samsung Electronics Co Ltd, would likely fall to 15.5 percent this year and 13.1 next year from 18.1 percent last year.
Saying the 5C was "nobody's low-margin phone", Cowen and Company analyst Timothy Arcuri said Apple's new relationships with Japan's NTT DoCoMo Inc and China Mobile Ltd supported the view that 2014 Street estimates for Apple earnings looked too low.
Arcuri said gross margins for the