Actress Aishwarya Rai Bachchan celebrated this year's Karva Chauth without her husband Abhishek, who was busy shooting abroad.
Though hubby Abhishek was away shooting for 'Oh My God' director Umesh Shukla's next film, 'Mere Apne', Aishwarya made sure the couple fulfilled the traditional requirements of the festive occasion, thanks to technology and spoke with him via Skype.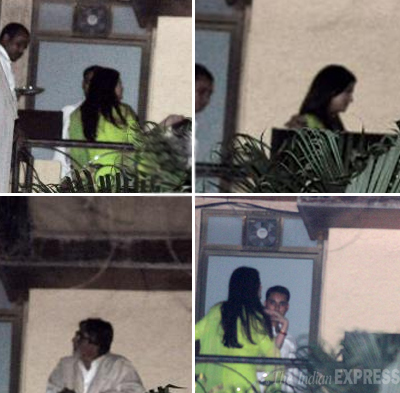 However, her father-in-law Big B seemed quite amused that Abhishek and Aishwarya celebrated Karva Chath through skype.
"Abhishek out of country on shoot .. so face of husband seen through Skype, for Karvachauth by Aishwarya .. what times we live in !!," he posted.
Aishwarya looked pretty in a lime green outfit at the Bachchan residence in Mumbai. She was seen with her father-in-law Amitabh Bachchan and mother-in-law Jaya Bachchan.
It was the first time that Abhishek has been away from Aishwarya on Karva Chauth, he tweeted: "My 1st Karwa Chawth away from the Mrs. Thank god for Facetime!"
Thanks to technology we're glad that Aishwarya and Abhishek could be together virtually if not in reality on the special day.