AEL offer for sale subscribed 1.12 times, raises Rs 174 crore
fe Bureau: Mumbai, Feb 07 2013, 02:00 IST
Adani Agro, the promoter entity of Adani Enterprises (AEL), successfully off-loaded 70 lakh shares or 0.64% stake in its subsidiary via the offer for sale (OFS) route on Wednesday to comply with the Securities and Exchange Board of India's (Sebi) minimum public shareholding norms.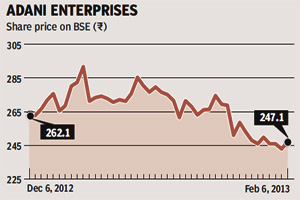 The auction was subscribed 1.12 times. As per BSE data, the auction received bids for 78.61 lakh shares at an indicative price of R250.79 per share. Indicative price is the volume weighted average price of all the valid or confirmed bids.
This was the second OFS after market regulator Sebi amended the guidelines, which allowed investors to check the quantum of bids and the price at which the bids were placed. As per stock exchange data, the auction received bids for 33.01 lakh shares at 100% margin and 45.6 lakh shares at nil margin.
At the floor price of R248 per share, the promoter garnered a minimum R173.6 crore from this auction. After the auction, Adani Agro's holding in Adani Enterprises would decline to 8.32% from the current 8.96%.
Total promoter shareholding would decline to 77.23% from the current 77.87%. As per Sebi guidelines, promoter holding in listed private sector companies should be brought down to 75% by June 2013 and, in listed PSUs, to 90% by August 2013.
BSE was the sole designated stock exchange for the issue, while Morgan Stanley India was the sole manager . On the BSE, shares of Adani Enterprises ended 1.81% or R4.4 higher from Tuesday at R247.10. However, the scrip