What is the Dreamliner?
Boeing's 787 Dreamliner is its technologically most advanced aircraft, and was catching on with airlines worldwide until the grounding.
Who fly it?
Air India has ordered 27 Dreamliners and Jet Airways 10, out of 848 orders by airlines across the globe. Boeing has delivered 50, including six to Air India (see box) which runs three on domestic routes and three on international routes. No dates have been announced for delivery to to Jet Airways. Deliveries have usually been behind schedule, the first to All Nippon Airways (September 2011) by three years and that to Air India (September 2012) by four years.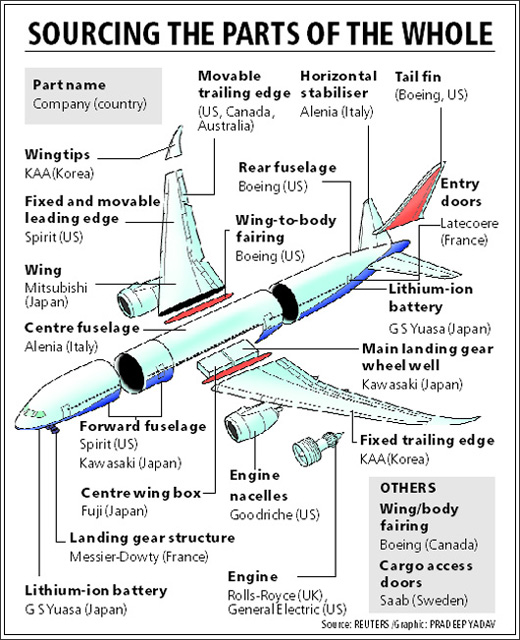 What is the technology that makes it special?
It is made of carbon composite material rather than metals such as aluminum. Composite makes it light and so fuel-efficient that Boeing estimates it consumes 20 per cent less fuel than any other aircraft the same size would have. It uses electricity to perform tasks that other aircraft perform with the use of hot air vented through internal ducts. Its other distinguishing features include a four-panel windshield and noise-reducing chevrons on its engine nacelles, making the cabin much quieter. Most significantly, the Dreamliner is the first aircraft to extensively use lithium-ion batteries. These have been the focus of concerns.
Why are those concerns?
Lithium-ion batteries carry the risk of catching fire, having been chosen on account of their ability to take a large charge in a short time. The Dreamliner has two batteries, the main one near the front, the second one in the rear. It is two immediate scares involving such batteries, in fact, that have led to the grounding.
What were those scares?
Each involved a Dreamliner run by a different Japanese airline. On January 7, a battery overheated and started a fire on an empty Japan Airlines plane, parked at Boston's Logan Airport. And on Wednesday, All Nippon Airways pilots smelt something burning and got a cockpit warning of battery problems during a flight from Yamaguchi Ube to Tokyo. They made an emergency landing at Takamatsu airport, where passengers were evacuated. An inspection found that an inflammable liquid from