A bumpy ride
May 21 2012, 03:56 IST
Q4 revenue up 13% year-on-year to R43.1bn: Net sales grew 13% y-o-y to R43.1bn–we expected R38.2bn. While volume grew 4% y-o-y, blended average realisation rose 9% y-o-y (+13% quarter-on-quarter) to R1,399,909 per vehicle. Higher spare parts sales and sales of defence sets helped boost revenue growth.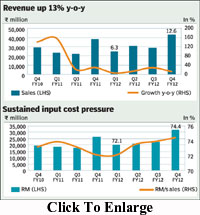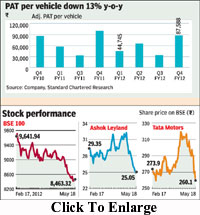 Adjusted Ebitda margin down 200bps y-o-y to 11.2%: Despite strong revenue growth, RM (raw material)/sales ratio was up 230 bps (basis points) y-o-y to 74.4%. Higher input costs were partially offset by lower-than-expected staff cost at 5.7% of net sales on account of lower bonus and actuarial provisioning. Operating margin fell 200 bps y-o-y (+340bps q-o-q) to 11.2% (our est. 10.6%).
Earnings down 14% y-o-y to R2.1bn: The ramp-up at Pantnagar led to a higher depreciation charge of R956m. The lower tax rate of 17.8% boosted earnings. Adjusted for the gain from sale of investments worth R16m, net profit fell 10% y-o-y to R2.7bn.
Conference call highlights
According to the company, it reported muted growth in engines sales to the slow-moving telecom sector–such sales declined 7% y-o-y to 16,432 units. Sales of defence sets increased to 2,981 units in FY12 from 2,389 units in FY11. The company sold 352 fully built vehicles against 391 in FY11. Spare parts sales grew 19% y-o-y in FY12 to R8.5bn. Total price hikes in FY12 stands at R45,000 per vehicle—about 4.5%. The company has increased prices by 1.2% in January 2012, passed on the excise hike and