As Barack Obama signs on to the US healthcare reform Bill, Indian outsourcing firms are planning to gear up their onshore presence in the US and fill up necessary gaps through mergers and acquisitions.
The US expects to bring 32 million American under the insurance cover and the bulk of the IT outsourcing contracts is expected to flow in by 2014, say industry players. The US healthcare industry had been delaying major outsourcing contracts in a bid to get clarity over the Bill, thus impacting the business process outsourcing players over the last few quarters.
Country's largest business process outsourcing (BPO) firm Genpact said it was looking at acquiring firms in the healthcare space to fill up gaps. Tajinder Vohra, senior vice president- head, healthcare, Genpact, said, "We are keenly looking at mergers and acquisitions in the healthcare space that provide services like revenue cycle management, process optimisation and revenue clinical and non-clinical supply chain management. This will be for both the payers (insurance firms) and providers (hospitals)." Vohra however, refused to give details and said the firm was already doing the necessary due diligence. Genpact currently has about 3,000 people in the US. According to Vohra, the extra work could also ease up the pricing pressure that came in during the economic downturn.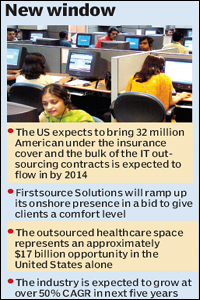 BPO firm, Firstsource Solutions, that drives about 37% of its revenues from the US healthcare sector, also said it would ramp up its onshore presence in a bid to give clients a comfort level.
Ananda Mukerji, MD & CEO, Firstsource Solutions, said, "The Bill will bring in additional compliance requirements for both the payers and providers which would require us to increase our onshore presence."
Firstsource currently has about 3,000 Americans in healthcare, have over a dozen facilities or operations centres spread across the US. "We will however take a strategic call on our ramp up plans based on the contracts flowing in," Mukerji added. The outsourced healthcare space represents an approximately $17 billion opportunity in the United States alone. The industry is expected to grow at over 50% CAGR in