For the private equity (PE) industry in India, the year 2013 opened up a much-needed window of opportunity for investors straddled with investments bottled up for well over half a decade and a lack of exit options.
PE investors witnessed a spurt in the number of exits during the year that were cumulatively worth over $600 million, despite the subdued state of the primary markets.
The biggest action was concentrated in the healthcare sector, with London-based PE major Apax Partners' sale of its 19 per cent holding in Apollo Hospitals for close to $370 million in multiple open market transactions marking one of the biggest exits of the year.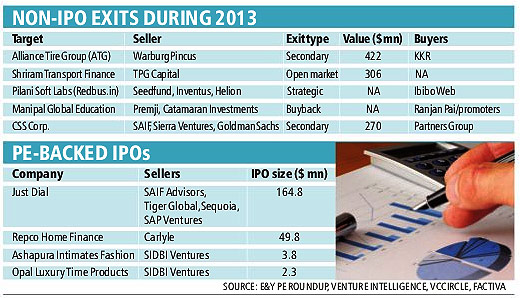 Apax had first picked up stake in the hospital chain six year ago, with a primary tranche in October 2007 that was followed up with stake purchases in subsequent years.
The other big exit in the works was that of PE major Blackstone selling its stake in Pune-based Emcure Pharmaceuticals to Bain Capital.
While the financial details are under wraps, industry estimates peg the deal size at about $100 million, or double the $50 million that Blackstone paid when it too the 13 per cent stake in the pharma firm in 2006. For Blackstone, this would mark the second exit from its Indian portfolio after it sold its stake Intelenet to UK's Serco group in 2011.
US-based PE firm Avenue Capital too marked an exit from Gurgaon-based Medanta Medicity Hospital, where it had picked up stake way back in 2006.
PE major Carlyle Group picked up 27 per cent stake in Medanta in the transaction, including Avenue's stake in the hospital venture.
Another benchmark during the year was the PE-backed initial public offering (IPO) of internet firm JustDial, which provided a exit for its investors SAIF, Tiger Global, Sequoia Capital India and SAP Ventures, whose sale of shares comprised over 80 per cent of the $167.11 million issue. The JustDial IPO was one of the largest in the Internet space.
Another US-based private equity investor TPG sold off its 9.9 per cent holding in Shriram Transport Finance in the open market via block deals, marking the largest public market sale entailing a complete exit.
The second such complete exit through the public markets was that by Warburg Pincus from Havells India, with returns of about 2.5x on its investment made in October 2007.
The steady stream of exits through the