2013: advantage cyclicals
Dec 03 2012, 01:30 IST
Biggest impediment to a roaring bull market is the state of domestic liquidity
The year 2012 was about defensive and quality stocks. We think this is changing – 2013 may look different. As usual, change is permanent even though changes are not. The earnings cycle is likely to inflect positively, setting the stage for: (i) higher equity prices; (ii) growth to beat quality; (iii) cyclicals outpacing defensives; and (iv) stock picking yielding to sector approach in equity portfolios.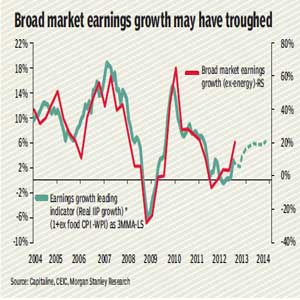 Most of 2012 was about global factors: This was best evidenced by the all-time high that correlation of returns between Indian and global equities hit. Through the year, market participants argued for lower share prices premised on India's poor macro backdrop. India's high external deficit hinged it to global outcomes, making global rather than local factors the primary driver of equity returns. QE has stemmed India's tail risks from its macro imbalances and coupled with a bit of domestic policy progress, return correlations have begun to decline, albeit from a historical high.
For 2013, we see the following:
* A new earnings cycle—A steady recovery in broad market earnings growth to 20% by end-FY2014.
* 26% Sensex upside—largely from earnings progression, not multiple expansion.
* An upcycle in earnings, strong global liquidity and supportive valuations are helping the market. Domestic liquidity and flattish yield curve are still impediments.
* Preferred portfolio strategy: Growth over quality (high free cash flow, high return on equity, low capex), cyclicals over defensives, active sector positions vs.