'Banks seeking higher credit scores for loans'
Surabhi: New Delhi, Jan 17 2013, 02:04 IST
You need to score far higher to qualify for an auto loan than a couple of years ago. A panoramic survey of the average credit scores of people by CIBIL on Wednesday shows that Indian lenders now look for a much higher rating to offer loans ranging from housing to auto, than in the pre-crisis years.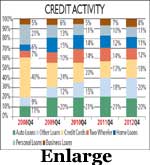 "Earlier while the banks used to give loans to entities with score of 600 out of 900 in the CIBIL profile rating, they now prefer a higher rating of around 800," said Arun Thukral, managing director, Credit Information Bureau of India Ltd (CIBIL).
CIBIL is India's foremost provider of credit scores for individuals that banks put to use. The scores range between 300 to 900 for individual consumers generated by compiling their performance on bank accounts, loans and credit cards. The score is used as a gauge by lenders to assess an applicant's risk profile while processing a loan or credit card application. Apart from banks and financial institutions, CIBIL has also tied up with telecom companies and insurers for the purpose. The company had been promoted by 14 public and private sector financial entities in 2000 but came into its own post the global meltdown of 2008.
Thukral said private sector and foreign banks were the first movers in reviewing credit history for deciding on loan applications. Public sector banks too have begun to make such enquiries. In fact, the country's largest lender, State Bank of India, also