According to research firm Canalys, the wearable band market grew 684% on a worldwide basis in the first half of 2014 compared with the first half of 2013.
Have you heard about the Mi Band Well, if you havent then you might miss the biggest thing in wearables in the coming months. That is not because it is a great wearable device, but because it costs just $13 about Rs 700. If Sony Smart Band being packaged free with the Xperia Z2 and T3 was supposed to push up the adoption of wearables in India, Mi Band coming to India on Xiaomis flash sale model could take the segment to a whole new level.
It is not that wearables need a great push. According to research firm Canalys, the wearable band market grew 684% on a worldwide basis in the first half of 2014 compared with the first half of 2013. The growth is driven by bands from Fitbit and Jawbone, which have of late started dominating the basic wearable band segment in most countries. The earlier leader, the Fuel Band from Nike, has pulled out of the segment.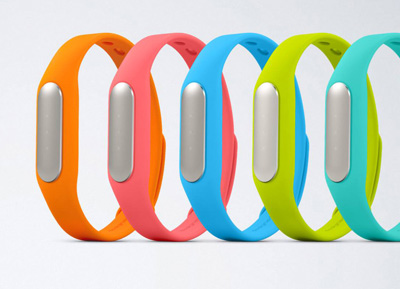 Xiaomi's Mi Band
There is also the smart wearable band segment, consisting of devices like the Samsung Gear Fit that have an LED screen letting you do much more with the device that just log your daily activity. It is not much of a surprise that Samsung leads in this segment with the three new devices it launched this year, the Gear 2, Gear 2 Neo and Gear Fit. The Gear 2, in contrast to a basic band, can let users take and make calls, click pictures, add new apps including Evernote and even tell you the time.
So what are wearable devices The basic ones are those that just log your activity and use a smartphone, tablet or desktop to let you analyse this data better. This entire phenomenon is called the quantifiable self. With a device on your body all the time, it is not just the steps that you take that is counted. It knows when you are sleeping and when you are being more active, it also has the potential to understand more vitals about your body and relaying it realtime to a caregiver. The basic bands are waiting for this next generation devices to make these a necessity for most users. In fact, not all devices tracking activity will be bands. You will get everything from finger rings to brooch-like wearables that can do this.
Some activity loggers like the Autographer from UK-based OMG Life want to become life loggers, clicking a picture at regular intervals in your life. But like now, the future growth in wearables is likely to come from things that are worn on your wrist.
The smart wearable band too has a lot of potential, especially since it can end up replacing the smartphone. This means they can do a certain level of computing on their own and come with connectivity options. At the moment they work mostly as an extension of the smartphone, the Samsung Gear devices being the best examples. But Google Android Wear devices that have already started hitting the market can be controlled with voice, thus negating the need for them to be yoked to a phone at all times.
Canalys Analyst Daniel Matte says Android Wear represents an initial first step by Google, which will undoubtedly continue to refine and improve the Wear platform as it has done with Android. There is also the prospect of Apple announcing wearable devices as early as the coming month. That could be another big boost for the segment, like with any Apple launch. But then you cant hazard a guess what Apple will do. It might just throw open a new segment, one that we had not envisioned, or factored in so far. It has done that before with the iPod and the iPhone.
However, the Indian market is still very small and all companies, including some local ones, are gearing up to become major players. We are still a few months away from seeing major traction in the segment, especially since awareness levels are still low. Plus, there are very few bands that are really cheap and that is a factor here. Till then fans of smart wearable devices could opt for one of those cheap wrist phones, though they are anything but practical.
WEARABLES
* Pebble ($150)
- The best smartwatch because it works really well as a watch. It comes with a good apps store. Ships to India at no extra cost.
* Samsung Gear 2 (Rs 21,900)
- The best overall wearable device, the Gear 2 can be everything your smartphone is. Only problem is that it works only with top Galaxy phones.
* Sony SmartBand (Rs 5,990)
- A basic wearable band, this one stands out thanks to the great Lifelogger app available for all Android Kitkat devices.
* Samsung Gear Fit (Rs 15,900)
- An easy to wear band, this one has an OLED display and that adds value to the device.
* Spice Smart Pulse M-9010 (Rs 3,999)
- If you want to buy an affordable wearable, this is your best bet now. Not very practical though.