The consortium of lenders to Vijay Mallya-promoted Kingfisher Airlines (KFA) is tipped to meet as early as next week to take stock of its R8,000-crore plus exposure to the beleaguered airline, now that British liquor giant Diageo Plc has agreed to acquire up to 53.4% in Mallyas United Spirits Limited (USL) for an amount of up to $2.1 billion. Earlier in the week, SBI chairman Pratip Chaudhuri had given KFA a November 30 deadline to infuse $1 billion into the airline for it to become eligible for a corporate debt restructuring package.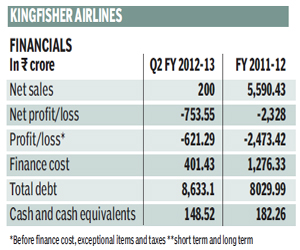 In response to what the deal could mean for Kingfisher, Mallya, who through United Breweries Holdings will hold 14.9% in USL, had said on Friday, We have multiple businesses and each business operates independent of the others. There is no cross contamination. There never has, there never will be. The deal itself is to be executed in several stages, with Diageo first buying 27.4% in USL from the promoters, next by picking up treasury shares and thereafter through an allotment of preferential shares. Diageo will then launch a mandatory offer for another 26% stake in the open market at R1,440 a share.
Once the deal is done, USL will see an infusion of R3,300 crore, while UBHL will see an infusion of R2,400 crore.
A senior SBI official, however, pointed out that since USL, UB and Kingfisher were different entities, inter-group transfers of funds could be decided on only by the respective boards and could not be enforced by the banks. Although Kingfisher Airlines has given SBI the first charge on 2.6 million shares of USL, it is unlikely that the bank would be able to influence any USL decisions, the official added.
BK Batra, deputy managing director of IDBI Bank, the second-largest lender to KFA, said it had put in a request for a lenders meeting in view of the USL stake sale to Diageo. We want to meet as soon as possible, he said.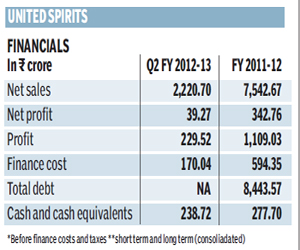 Batra said since the lenders have a corporate guarantee from UB and a personal guarantee from KFA chairman Vijay Mallya, it was incumbent upon them to support KFA. The personal guarantee is worth R249 crore, while UBHL has provided a corporate guarantee of R1,600 crore The collateral also includes shares pledged by promoters, hypothecation of two helicopters, an escrow of IATA, American Express and other credit card receivables. The company has also hypothecated its current assets (both present and future).
Bankers also have pooled collateral security of R5,300 crore, including two properties, Kingfisher Villa in Goa and Kingfisher House in Mumbai, valued at an estimated R200 crore. However, the KFA brand, originally hypothecated at around R4,000 crore, may have diminished in value, according to brand experts.
Almost all banks have classified the loan exposure as a non-performing asset and provided accordingly.
SBI has the largest exposure to KFA of around R1,200 crore. Other lenders include IDBI Bank with an exposure of R727 crore, Punjab National Bank at R710 crore, Bank of India at R575 crore and Bank of Baroda at R530 crore. ICICI Bank sold its Kingfisher exposure of R430 crore to a debt fund of Srei Infrastructure Finance.
The other lenders include Central Bank of India, United Bank of India, UCO Bank, Federal Bank and Corporation Bank. KFAs total long-term borrowings stood at Rs.5,695 crore as on March 31, 2012, down from R6,306 crore a year ago.
Besides, it had short-term borrowings of R2,335 crore at the end of financial year 2011-12, up from R604 crore as on March 31, 2011.
In the financial year 2011-12, KFA posted revenues of R5,493.41 crore compared to R6,359.64 crore in 2010-11.
It posted a net loss of R2,328 crore in 2011-12 compared to a R1027.39 crore net loss in 2010-11.