The growth in net debt was at a slightly faster clip than their aggregate turnover growth of 12.02% in the same period.
Though the debt burden of large Indian companies increased year-on-year in fiscal 2014, their ability to service such borrowings has also improved, an analysis of some of Indias most indebted companies show.
Looking ahead, companies are confident that they will be able to reduce and service their debt levels better as economic growth is expected to pick up with a stable, pro-reforms government in place.
The aggregate net debt of nine large Indian companies with significant levels of borrowings increased 12.5% in fiscal 2014 and stood at R4.07 lakh crore. The growth in net debt was at a slightly faster clip than their aggregate turnover growth of 12.02% in the same period.
Steelmaking firms like JSW Steel and Tata Steel have reported the highest growth in net debt in percentage term among these nine companies for fiscal 2014.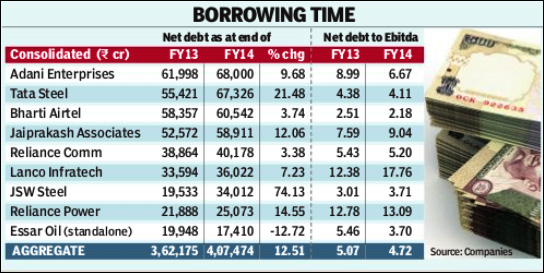 During JSW Steels earnings conference on May 28, joint managing director and chief financial officer Seshagiri Rao said that the companys debt level was not a big concern considering the cash flows it expects from its steelmaking operations.
Business leaders like Rao expect that the demand for products and services they offer like steel, cement, engineering and construction will significantly pick up with the new government expected to move towards reviving economic growth and boosting investor confidence.
Many Indian companies streamlined processes and reduced costs over the last couple of years to maintain profit margins at a time when business growth was difficult to come by. With these cost rationalisation measures in place, they are now hoping that the imminent upswing in demand will help in achieving higher sales, and the cash flow from operations can be used to repay debt.
With the capital markets expected to do well, many companies are also in the process of planning equity issuances to bring their debt to equity ratios back to reasonable levels.
Many Indian firms (especially infrastructure companies like GMR, GVK and Jaiprakash Associates) have been looking to monetise assets that they either consider non-core or unviable to repay debt. While some such divestments have been successful, they are likely to pick up further with several global investors (multinationals as well as private equity funds) taking a fresh look at the Indian market.
For those who took on higher debt over the last two-three years to build productive assets (like Hindalco Industries), the promise of progressively higher capacity utilisation in a buoyant economy gives them comfort with respect to their debt servicing obligations.