Indias No. 3 software services exporter Wipro plunged 7.29% on the Bombay Stock Exchange on Wednesday, losing R32.25 to close at R410.15, after the company said it expected near-flat revenue growth in the current quarter.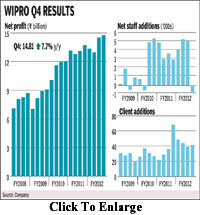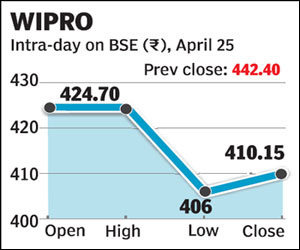 The guidance, which came with the announcement of a 7.7% rise in net profit in the March quarter, disappointed markets and left analysts wondering about the Azim Premji-led companys near-term prospects. Wipro was the biggest loser in BSEs IT index, which shed 1.48%.
The company attributed the muted guidance of -1% to 1% revenue growth to weaknesses in its India business and challenges in the telecom vertical. For the first quarter, Wipro expects $1,520-$1,550 million revenues from the IT services business, almost the same as $1536 million clocked in the fourth quarter.
Net profit for the January-March quarter touched R1,481 crore, while consolidated revenues of Wipro for the fourth quarter stood at R9,869 crore with an annual growth of 19%. Its mainstay IT services business reported a 21% growth to touch Rs 7,590 crore.
Wipro chairman Azim Premji said: Overall macro environment continues to remain volatile while we have seen some signs of positivity in the last three months of the financial year. Customers, however, remain cautious.
T K Kurien, CEO of the companys IT business, said he is not too bothered about the environment and added that Wipro will meet Nasscoms growth projections of 11-14%. One cannot do much about the environment. What we can control is customer satisfaction and we have started to rate employees on the basis of customer feedback, he said. The company which undertook a major overhaul of its operations is looking at ways to mine deeper with customer accounts by forming two separate teams for this purpose. This has resulted in its top 10 customers rowing faster than the companys average.
Wipro said it would provide a wage hike of 6-8% in line with the current industry standards. Infosys, its cross-town rival, had said earlier this month that it will not be providing any increments this year.
Dipen Shah of Kotak Securities said: Wipros numbers for 4Q were below our estimates on the IT revenues and margin front. The guidance of a flattish revenue growth in 1Q was also disappointing. The management has indicated this is due to some one-off issues in the India business. We will wait for further developments on the same.
Echoing similar thoughts, Sanjiv Hota, assistant vice president, research, IT, Sharekhan said: The management is saying that it aspires to grow better than industry but with the current guidance that is doubtful.
IT services recorded a sequential growth 2% in line with market expectations with a volume growth of 1.3%, while the pricing environment remained more or less stable. Wipros IT services business reported a earnings before interest and tax at Rs 1,694 crore recording an annual growth of 15% though its operating margins declined marginally in the quarter. Wipro CFO Suresh Senapaty attributed this fall in operating margins sales & marketing expenses made during the last fiscal.
At the end of fourth quarter, Wipros IT services headcount stood at 1,35,920 which was down 814 people from the third quarter. This came as a surprise. Wipro said that the decline in headcount was more of a one-quarter issue due to certain restructuring in the BPO business.
Wipro declared a final dividend of Rs 4 per share taking the total dividend to Rs 6 for the whole year.