Slowing growth, declining margins and rising slippages in Q2
Bank of Barodas Q2FY13 earnings disappointed as operating performance remained weak and asset quality worsened. Still, lower than expected provisioning propped up profits 8% higher than our estimates, implying a 12% y-o-y growth.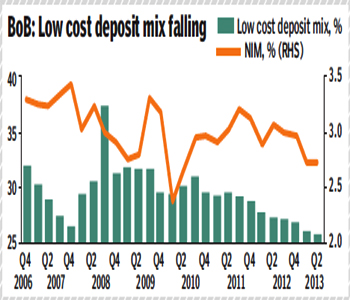 Highlights: Increasing contribution from the international book (now 32% of total loans) and to some extent the SME book helped prop up loan growth to 22%. However, the eighth consecutive quarter of falling CASA (current and savings account)--now at 26%---kept margins subdued at 2.7% with a weak outlook as BoB was one of the few banks to raise deposit rates in Q2FY13 vs. cuts by many others.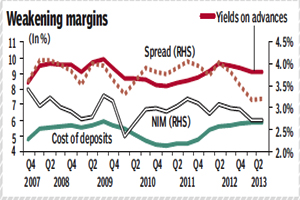 Fee growth remained lacklustre and consequently core operating profit growth was muted at 7% y-o-y. Surprisingly, despite higher slippages and marginally improving recoveries/upgrades, credit costs were lower at 100 bps bringing down provisioning coverage (computed) to 59% and to 76%, including write-offs, which helped prop net profit growth up 12% y-o-y. ROA (return on assets) remained muted at 1.1%.
Earnings outlook: We cut margins and increase credit costs as we believe BoBs performance isnt likely to recover in a hurry; we cut earnings in FY14e and FY15e by 11% each. This year, we expect H2FY13 to be especially weak as higher deposit rates and rising slippages take their toll on margins and credit costs leading to a 10% decline in earnings.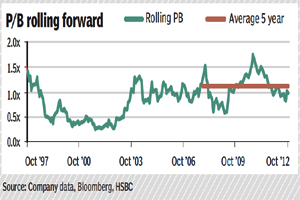 Valuations: After running up 28% from September 2012 and outperforming the Bankex by 8%, BoB is currently trading at 12-month forward multiples of 6x PE (price to earnings ratio) and 1.0x PB (price-to-book ratio), a 16% and 26% premium, respectively, to our PSU universe ex-SBI. We set our 12-month target price at R744 (R716), implying a potential negative return of 3%. Retain UW (underweight) rating.
Key upside risks: (i) Lower-than-expected asset quality issues; (ii) Margin recovery in the next six months.
HSBC