Unlike previous years, television channels and movie production houses this year are launching new programmes and films like 2 States, Ek hasina Thi and waiting in wings is the much-anticipated, Rajinikanth's Kochadaiiyaan, in the midst of the Indian Premier League (IPL 7) season confident that they have a loyal audience for their shows
Its the Indian Premier League (IPL) season and as the Twenty20 tournament dominates television screens courtesy Sony Max and Sony Six, its time for all other entertainment options to scurry for cover. Or so, many would like to believe. But unlike previous years when the fear of the IPL would lead rival television channels and even the film industry to go slow on new content, quite a few broadcasters and motion picture producers this time have decided to take the bull by the horns. Television and movies are the two most dominant slices of Indias R91,700-crore media and entertainment industry. Together, they contribute around R50,000 crore to the countrys economy. And this time they are ready with their ammunition.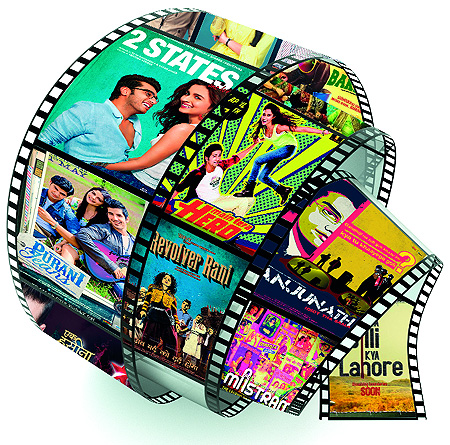 Among the Hindi general entertainment channels (GECs), Star Plus launched a new showEk Hasina Thion April 14 while Zee TV launched Kumkum Bhagya on April 15 at 9 pm, replacing its long-running serial Pavitra Rishta, which was moved to the 6.30 pm slot. ETV Bangla, a Bengali GEC, launched an original afternoon band on April 15 under the banner Duronto Dupur with fresh new shows including a remake of Colors Balika Badhu, a story based on Bankim Chandra Chatterjees Durgeshnandini and a game-based non-fiction property.
Additionally, Reliance Broadcast Networks (RBNL) regional Hindi GEC Big Magic has launched Har Mushkil ka HalAkbar Birbal from April 28 (at 9 pm slot), bang in the middle of the IPL. Bollywood is going a step further with as many as 20 movies being released during the IPL season this year. The highpoint will be the release of the R125-crore Rajinikanth-starrer Kochadaiiyaan on May 9 right in the middle of the IPL.
During the initial seasons, the IPL had a big impact on the television business. But, now that the game has been around for the past so many years, television has learnt to carve out a niche for itself. Both of them have their own significant sets of audiences, says R S Suriyanarayan, associate vice-president, Initiative.
Interestingly, television entertainment genres such as food and music, which do not enjoy the power of appointment viewing, seem to ooze fearlessness this season. Food lifestyle channel FoodFood broke an aggressive campaign on April 14 to announce its line-up of new shows while music channel 9XM chose to focus on creating its comic satires around the general election this season, rather than concentrating on the IPL, a tradition it followed till last year.
Says Pawan Jailkhani, chief revenue officer at 9X Media: For the last 3-4 years, April-May have probably been the biggest months for broadcasters. And the IPL has only helped in increasing the overall ad pie. 9X Media has the highest strike rate in April-May-June and I believe it is the same case for other genres too. The second quarter traditionally dips because of the monsoons. Elaborating further, he questions, Of the 5000 brands, about 50 brands go to the IPL. So the remaining have to go somewhere else, right
According to market estimates, advertisers with deep pockets pump in as much as 10-20% of their annual ad spends into the IPL. On the contrary, smaller players may either go full throttle and invest 70-80% of their annual marketing budget in the IPL or totally shun the property as a tiny investment will go unnoticed in the gigantic wave.
No doubt the IPL is a great entertainment format wherein its presence does disrupt television viewership trends across different genres. But with the proliferation of multiple TV homes, the impact on viewership is expected to continuously reduce. Any massively popular sporting event has the impact of disputing regular viewership patters, across the world, and the IPL is one such sporting property. The important thing for broadcasters is to evaluate the impact on different genres of channels, and determine strategies to minimise viewership loss, if any. Since there have been several IPL seasons, broadcasters have a lot of data to evaluate this aspect, says Ashish Pherwani, partner, EY, a management consultancy firm.
Well, talk of the impact of the IPL on various television entertainment genres and its the Hindi GEC genre that has been affected by IPL the most. Market watchers say that traditionally, the Hindi GEC space sees as much as a 20% dip in viewership during the IPL seasons, thereby leading to a 20% dip in their advertising revenues. However, this time the story could be a little different with viewership expected to drop by 10-12% while channel ad rates remain unaffected. As Raj Khare, founder and CEO, SureWaves says, The election is coinciding with the IPL this season and its contribution towards television advertising is surely good enough to compensate for any loss that the channels may incur because of the IPL. SureWaves aggregates and maps the local and regional audiences across India and offers them to national advertisers as a complete target set.
Second, the uncertainty regarding the IPL venues and the apprehension that the tournament may even be cancelled in the light of the preliminary observations of the Supreme Court in late March, gave GECs an upper hand while negotiating ad sales deals with brands. Brands were unsure about betting too much on the IPL and GECs took advantage of this.
Meanwhile, with the Telecom Regulatory Authority of Indias (Trai) 10+2 ad cap notification in place, the dynamics of the television industry is definitely changing. With the ad inventory ceiling at 12 minutes an hour, channels will need to increase their ad rates to maintain their revenues. Here, Hindi GECs have some advantage on the basis of their massive reach. However,
with the IPL season on, GECs, in all probability, will choose to keep their ad rates stable for now, say industry experts.
I see GEC rates stabilising because of the IPL, election and the Trai notification. There is a supply crunch in ad inventory and April-May are good advertising months. Now, in a bid to maintain their revenues, the channels could take a stance and hike their rates. But with the IPL on, I do not see a possible hike in rates, but not even a fall either, says Balakrishna P.M, chief operating officer at Allied Media, Percept Group. For the record, the ad rate for a 10-second spot for a top fiction property on a top GEC currently is R1-1.5 lakh. For format shows that rate could go up to as much as R2.5-3 lakh.
Now talk of films and the fear of IPL is surely fading out here too. On April 18, Dharma Productions and Nadiadwala Grandson Entertainment released their latest co-production 2 States in more than 2000 screens in India. Distributed by UTV Motion Pictures, this mid-budget movie (around R35 crore)a romantic comedy starring Alia Bhatt and Arjun Kapooris the first movie to hit the theatres just after the IPL launch on April 16. The movies first weekend collection stood at around R39 crore, with trade experts declaring it a super-hit, despite the fact that there were two IPL matches televised on April 18 (Friday), two on April 19 (Saturday) and one on April 20 (Sunday).
Talk of the other significant launches during the IPL period and April 25 saw the release of Kaanchi - The Unbreakable with a budget of R25-30 crore. This romantic drama is being touted to be Subhash Ghais return to film direction after a five-year gap. And finally there is Kochadaiiyaan which will release on May 9. Overall, Bollywood will release as many as 20 movies during the IPL season this year as against 10 movies during IPL6 and IPL5, nine movies during IPL4 and IPL3, one movie during IPL2 and eight movies during IPL1 in 2008. Says Ormax Media CEO Shailesh Kapoor, Today, so many films are vying for a good release date and there are only 52 weeks in a year. So, studios have no option but to make the most of each of these weeks. Hence, if a week during the IPL does not have a film releasing, a producer is sure to lap it up.
Now, one quick look at the last three years and it can be seen that it is the small and mid-budget movies that are looking at release dates during the IPL. Observes Pankaj Jaysinh, COO, UFO Moviez India, We have witnessed some small budget films such as Aashiqui 2, Vicky Donor and Jannat 2 fare very well at the box office in the last two IPL seasons indicating that good content does stand a good chance at the box office. Aashiqui 2 made at a budget of R9 crore, a 2013 release, made R75 crore at the box office while Vicky Donor, a 2012 release, made at a shoestring budget of R5 crore made around R35 crore during the IPL. Meantime, Jannat 2 made with a budget of R18 crore made around R42 crore.
Adds Tanuj Garg, chief executive officer, Balaji Motion Pictures, I do not think there is any big impact of cricket on movies anymore unless there is a very big, crucial match happening. We released Ragini MMS2 and Main Tera Hero on cricket heavy weekends. In fact, we released Ragini MMS2 on the day of the India vs Pakistan match. And yet it scored well at the box office indicating that cricket is not really a deterrent anymore. Ragini MMS2 earned R24 crore in its first box office weekend while Main Tera Hero made around R23 crore in its first weekend at the box office.
Ashesh Jani, partner, Deloitte Haskins & Sells is of the view that while the IPL started as a craze many years ago, the general interest in the game has gradually declined over the years due to various issues including audience fatigue as well as negative publicity due to alleged scams. The first and the second IPL seasons were a rage with the viewers and spectators. In those years there was some pressure on the multiplexes and production houses. Today, franchises and sponsors are desperate to regain lost viewership for IPL. Additionally, with the general state of interest and the economy, there may not be a noticeable impact on the footfalls at multiplexes due to the current IPL season. The general election in the country and the related analysis is what is of interest today, says Jani.
According to industry pundits, traditionally, April-May have been two of the top five months of the movie season. While during the first few seasons there was about a 10% drop in box office revenues of the select months when compared to the non-IPL period, the loss at the box office now is negligible. It is pertinent to note here that currently April contributes 8-9% of the total gross box office collections for a given year while Mays contribution stands at 10-10.5%. Not to forget, the annual multiplex gross box office revenue currently stands at an estimated R9,000 crore.
For the record, industry estimates suggest that the net box-office collections during IPL has grown from around R70 crore in 2010 to R135 crore in 2011 to R273 crore in 2012 and around R300 crore in 2013.
Kamal Gianchandani, president, PVR says, India is a cricket hungry country and the T20 format had caught the imagination of sports lovers at that time. Therefore, initially there was this psychological fear amongst the producers that audiences would have less time and less appetite to come and watch a movie. But what really has happened is that both cinema and IPL have learnt to co-exist with each other. IPL has been a big success but at the same time movies have been doing well. There is no visible impact anymore.
To be sure, while the film industry is looking at experimenting with new content during the IPL season, the super-big launches of the year still seem to avoid the IPL window. Big movies generally do not release during the April-May period which affects the multiplex footfalls to some extent. But the window immediately after the IPL is the spot to look out for. Yeh Jawaani Hai Diwaani released immediately after the IPL last year to collect more than R190 crore at the box office, said Ameya Sule, business director, GroupM ESP.
Interestingly, 2014 will see quite a few big launches immediately after the IPL ends. Holiday: A Soldier Is Never Off Duty, starring Akshay Kumar releases on June 6, Humshakals starring Saif Ali Khan releases on June 20 and Kick starring Salman Khan releases on July 24.
Usually, films that release during the IPL season are films with smaller budgets who choose to release at this time as they are more likely to secure shows/screenings. In contrast, were such films to release post-IPL, they may find it difficult to secure screenings alongside the big-budget back-to-back releases at this time. Meanwhile, it is almost akin to a burst of big-budget films post the IPL. This year, for example, eagerly anticipated films such as Holiday, Humshakals, Action Jackson will all release back-to-back in June, right after IPLs seventh season, says Pankaj Jaysinh, COO, UFO Moviez India.
Well, it is true that multiplexes are still to witness the big blockbuster releases during the IPL period. But gradually as the IPL fear reduces, theatres may be audacious enough to screen anticipated blockbusters even during the IPL season.