A missing link in the biosimilar regulatory framework of US could delay and wipe off potential earnings worth billions of dollars from the kitty of Indias generic drugs industry. The US subsidiaries of Ranbaxy, Sun Pharma, Dr Reddys, Glenmark, Strides, Cadila Healthcare and Ind Swift Labs have lodged a protest with the US Food and Drug Administration (USFDA) opposing a clause that would prevent pharma firms from filing new drug applications for the generic versions of biological drugs with the US drug regulator in the 12 years after an original branded drug is first approved for marketing.
In a letter to FDA commissioner Margaret Hamburg, the generic pharma association, of which these Indian drugmakers are members, has pleaded: If the legislation is interpreted to prevent biosimilar filings for 12 years, consumers will have to endure an unknown period of delay of FDA review and approval that could stretch far beyond the 12-year total that was set in the legislation.
The US Congress finalised a law last year to put in place the regulatory framework for biogenerics. However, there is an ambiguity over whether the data exclusivity is just 4 years or 12 years. During the period of data exclusivity, the regulator is not supposed to disclose or rely on the originator data for clearing generic applications.
While it is amply clear that of the 12 years of exclusivity allowed to the innovator company for an original biological drug, market as well as data exclusivity would be granted for the first four years, it is not very clear whether the subsequent eight years of exclusivity refers to market exclusivity or data exclusivity.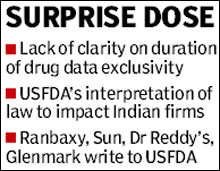 How the US FDA finally interprets the matter will have an enduring impact on how the biological drug market shapes up in the world's largest drug market. If the FDA concludes that the debated eight-year period is only 'market exclusivity' for the innovator company, the data on drug would be available to generic firms enabling them to file new drug applications during that period, which could translate into faster launch of cheaper generic version of original biological drugs. However, if the FDA concludes that the debated period pertains to 'data exclusivity', it would be practically unworkable for the generic firms to file a new drug application for biosimilars during the period, substantially delaying launch of generic versions.
We support the objections that have been raised by the generic companies in this regard. From the consumer perspective, these drugs are very expensive compared to conventional chemical drugs and by delaying the launch of generics, a large section of the world population would be deprived of these new medicines for a long period, said Kamal Sharma, managing director, Lupin. The US Federal Trade Commission calculated in 2009 that a year's worth of a popular biological treatment for breast cancer can cost upwards of $48,000.
Biological drugs are expected to make up for half of the top 100 drugs by 2014 with a projected market size of $170 billion. Till 2007, the US prescription drug market was valued at over $286 billion, of which around $40 billion was estimated to be spent on biologicals.
Senator groups in US are divided over whether the debated eight years indicate data or market exclusivity with the generic firms finding support from a group headed by US Republican presidential candidate of 2008 John McCain.
The innovator drug firms and their supporters argue that for generic players to copy biologic drugs, there must be an innovator drug and by killing incentives to develop new biological drugs, we would be depriving the future of many original biological drugs and in the absence of these drugs there is no evidence that biogeneric drug makers will become innovators.