The Centre on Monday announced fresh incentives for the sugar industry struggling to clear cane arrears. (Photo: AP)
Sugar companies cant clear their cane arrears but keep inventories worth double the dues they owe farmers, a situation some analysts liken to cartel-like behaviour, reports Banikinkar Pattanayak in New Delhi. Mills, however, justify the holding of stocks citing the fact that these are pledged with bankers for working capital loans and traders reluctance to lift the stocks in a big way.
The Centre on Monday announced fresh incentives for the sugar industry struggling to clear cane arrears.
Data on a dozen key companies in Uttar Pradesh, the largest cane-producing state, show the value of their sugar inventories as of March 31 was at least Rs 11,200 crore, more than double their cane arrears (which stood at R5,245 crore as of May 23).
While the UP government blamed for the crisis for announcing hefty state advised prices (SAPs) for cane arbitrarily for political considerations has stipulated that mills in the state should make payment within 14 days of purchasing cane, they are yet to pay farmers roughly Rs 7,000 crore even more than a month after the end of the crushing season.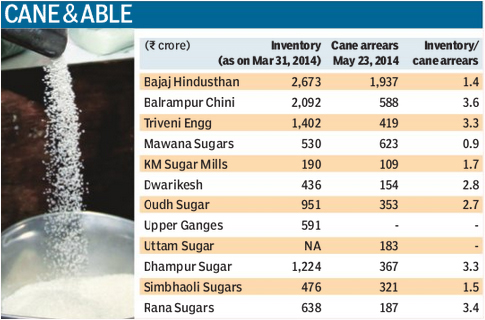 In some cases, the payment is due even for more than four months, while some other cases show farmers have not been paid even the benchmark price fixed by the Centre, which is 25% lower than the SAP in Uttar Pradesh for 2013-14.
However, a UP-based miller said: Sugar held with each mill has already been pledged with banks for availing of working capital loans and around 85% of sugar value has to be returned to the banks as their first charge. So not more than Rs 250 crore per month can be generated from sugar sales exclusively for making payment to farmers in UP unless banks and other agencies forfeit their immediate right to realise their working capital loans for some time. He added that working capital loans are mostly used for payment to farmers.
Moreover, industry executives say out of around 20 lakh tonnes of domestic sales a month, UP mills account for roughly 5 lakh tonnes. Calculated on the basis of the average price of Rs 31.75 per kg in May, the sales would roughly translate into Rs 1,588 crore for last month, while the industry in the state was holding on to the inventory of 44 lakh tonnes as of May 31. This means they will take roughly eight months to clear the inventory.
Wholesalers and retailers are reluctant to purchase in a big way and build stocks as they expect prices to remain subdued or even fall in a market already experiencing a glut following four successive years of surplus production. Even if we push hard, we can sell around 5.5 lakh tonnes a month in such a scenario, and not more than that, another miller said.
Moreover, the ex-factory prices of sugar in Uttar Pradesh are ruling around Rs 31-32 per kg, while the cost of production is Rs 36-37 per kg. Even after factoring in realisations from sales of some other cane by-products, such as ethanol, the ex-mill sugar price would be 10-15% lower than the cost, they say. In such a scenario, if companies start dumping more sugar in the market, prices will go down further. This would widen the losses of mills, already reeling under a liquidity crunch, they said.