Asian Paints Ltd Q2 FY14 indicates a stronger and steadier demand environment than earlier anticipated.
Asian Paints Ltd
s Q2FY14 indicates a stronger and steadier demand environment than earlier anticipated, although overall growth in FY14e is still likely to be below historical trends. However, we continue to be cautious on profitability as we do not expect the substantial margin gains in Q2 to sustain through the year. Maintain Underperform.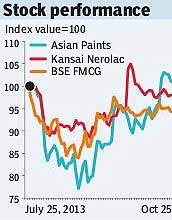 Q2FY14 stronger than expected: Asian Paints' consolidated revenues grew 18% year- on-year, 6% ahead of our expectations. Ebitda (earnings before interest, tax, depreciation and amortisation) margins were also substantially higher (150bps vs estimate), largely led by gross margin improvement (130bps vs. est.). As a result, Ebitda came in 16% above estimates. Higher other income and lower tax rates resulted in a 24% beat in profits.
Volume growth remains strong: Domestic decorative paint volumes grew at a strong clip (est. 13-14%) for a second quarter in a row, and surprisingly grew at a faster pace than in Q1 (est.10%) despite the higher base. While overall growth in FY14e is still likely to be below historic levels, we believe YTD (year-to-date) trends increase the visibility of growth and reaffirm the resilient nature of paint consumption. We accordingly raise our domestic volume assumptions for FY14e by 1.8% but keep our estimates for FY15e-16e mostly unchanged.
Margin concerns remain: Our concerns on profitability trends, however, remain. While gross margins were exceptionally strong in Q2FY14 (up 300bps y-o-y), we believe a large part of the expansion was driven by inventory gainsproduct prices were raised to cover current cost inflation while average consumption cost was based on older inventory. We estimate the gains on this account to be close to 100-150 bps, which likely explains most of the surprise in margins and a significant part (9%) of the surprise in absolute Ebitda. We, therefore, do not expect similar margin gains to continue through the year. We factor in 80-100 bps improvement in gross margins and 40-50 bps expansion in Ebitda margins in H2FY14 vs. the 220 bps and 40 bps expansion seen in H1FY14, respectively.
Valuation/risks: We raise our EPS (earnings per share) est. by 2-3% over FY14e-16e as we factor in the above changes. We roll forward our DCF (discounted cash flow)-based price target, which now stands at Rs 440 up from R414. Asian Paints trades at 34xpeak relative to history and its peers. Upside from here would be contingent upon earnings delivery, assuming multiples remain steady at current levels, which we believe is at risk. Maintain Underperform. Risks: (i) Faster revival in demand, and (ii) higher margin gains than expected.
Jefferies