The Medicines and Healthcare products Regulatory Agency, United Kingdom (UKMHRA) on Thursday said it is recalling five
Wockhardt
-produced prescription drugs, five days after the regulator prohibited manufacture of certain drugs from the companys Chikalthana facility.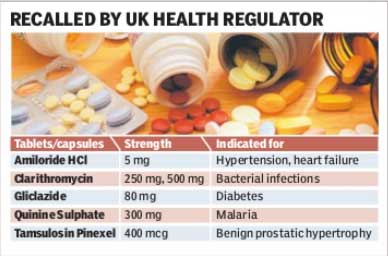 The UKMHRA had withdrawn the good manufacturing practices certificate issued to the same unit on October 12 after an inspection conducted in July revealed manufacturing deficiencies in the plant. However, the regulator had allowed the unit to continue producing certain critical drugs to preempt any possible shortfall.
This is the second recall of Wockhardt products in 2013 after the UK regulator initiated a precautionary recall of 16 prescription medicines in July due to violations in good manufacturing practices observed in Wockhardts Waluj facility.
The Chikalthana unit will continue to produce 10 prescription drugs for export to the UK, according to the medicines watchdog.
This is because, due to concerns over the continuity of supply, the benefits to patients of continuing to take these medicines outweigh the risk from any quality concerns with the medicine, the UKMHRA said in a statement.
The recall a Class 2 type which requires action within 48 hours is only for unsold drugs available with pharmacies, dispensing clinics and wholesalers and not for the drugs already bought by patients as there is no evidence that the drugs are defective.
However, the UKMHRA has to act in the interests of public health as poor manufacturing standards means that the quality of medicines is not guaranteed, the regulator said.
Wockhardt said the drugs allowed to be manufactured contributes about 3 million pounds (R29.66 crore at current exchange rate) from the UK and EU markets to the consolidated revenue of the company, while the one-time impact of the drug recall is expected to amount to about 1 million pounds (R9.89 crore at current exchange rate).
UKMHRA said it is working with Wockhardts UK subsidiary to ensure supply is resumed as quickly as possible but currently there is no indication as to when new stock of these Wockhardt products is likely to be available.