When you plan foreign travel for either work or holiday, do look for a cost-effective cover to guard against medical and financial emergencies. Travel insurance also covers non-medical emergencies such as loss of passport and trip cancellation and delays arising from natural calamities.
There are various types of international travel insurance and, in most plans, those under 70 need not undergo any medical check-up. Special travel insurance policies, valid for a year, are designed for frequent international travelers. Insurers also offer special senior citizen plans that cover unexpected medical and non-medical expenses, including even hijack distress allowance, when traveling abroad.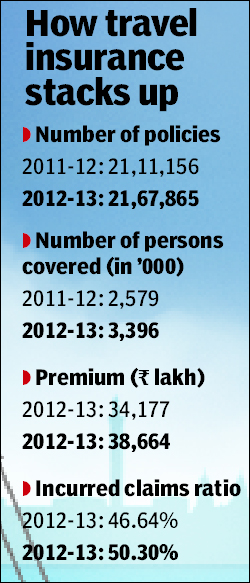 The premium charged by a non-life insurer for travel covers depends on the age of the insured or the family members, the country of visit, number of days of the trip and the kind of coverage opted for. Premiums also vary from one company to another. One can even buy the policy online, which is usually cheaper than buying it offline.
In fact, online travel insurance has already picked up substantially in the last few years because of better pricing, convenience and increased transparency. The online insurance market in India stands at over R700 crore. Life insurance sales contribute around R300 crore, motor insurance around R250 crore while other insurance lines, such as health and travel, make up around R150 crore.
Travel insurance must be taken from a company that has a long existence in the business, and the fine-print must be read thoroughly. A customer must look at the essential features, such as online services, claims process, toll- free number, payment options and the hospital network. He should also carefully check the exclusions to the coverage. Doubts, if any, must be clarified before takeoff.
Travel insurance is mandatory for countries such as the UK, the US, Austria, Greece, Portugal, Spain, France and Germany (Schengen). Even where it is not mandatory, it is in your interest to get one so that the holiday is tension-free.
First and foremost, travel insurance covers medical care this is vital as one is not covered for medical bills without insurance. Since medical costs are very high abroad, it could create a big dent in your pocket and dampen your vacation abroad. The cover will not only cover medical costs abroad, but will also be handy if one needs to be flown back to country in an air ambulance even that is covered.
Moreover, with airline companies often calling flash strikes, trip delays have become a norm, leaving the vacationer stranded abroad. A travel insurance will take care of your lodging expenses.
Insurance companies offer financial emergency assistance, which compensates the insured in case of any financial emergency because of theft, mugging, robbery, dacoity of funds. The compensation, however, does not exceed the maximum sum insured. However, insurance companies are not liable to make any payment under financial emergency assistance benefit because of a shortage or loss of funds due to currency fluctuations, errors, omissions, exchange, loss or depreciation in value. Also, any loss not reported to the police or authorities having jurisdiction at the place of loss within 24 hours of incident would not be covered. Analysts advise that before buying travel insurance, one must read the fine-print very carefully. Any kind of ambiguity discovered must be immediately reported to the insurance company. This will reduce the chances of being caught offguard in a foreign land.
The insurer compensates the insured for the loss of passport during a foreign trip, but it wont exceed the sum insured for the coverage. The insurer also reimburses the insured for actual expenses necessarily and reasonably incurred in connection with obtaining a duplicate or fresh passport. However, insurance companies are not liable to make any payment if the loss of the passport is due to delays or confiscation or detention by the customs, police or public authorities. In case of lost baggage, the insurer will pay for your clothing and other belongings.
Insurance companies offer a wide range of specialised travel insurance, such as individual plans, family floaters, senior citizen schemes and plans for students. Some also offer multiple trip plans for business travelers.
At the time of buying a travel insurance policy, look for some additional benefits that many policies cover,
such as hotel accommodation cover, missed flight connection and even return fare for a family member in case of hospitalisation abroad for over seven consecutive days.
Travel insurance covers health insurance and accident policies, but one has to bear in mind that the policy does not cover any pre-existing conditions. In fact, the insured needs to declare such conditions before he travels.
Most travel insurance policies also exclude acts of terrorism, war or war-like action, suicide and self-inflicted injury. Policies also exclude hospitalisation or accident caused under the influence of drugs or intoxicants, exposure to excess radiation, nuclear and explosive equipment and even taking part in professional sports like skydiving, hang gliding, bungee jumping and diving. For dental treatment, the insurer compensates for expenses incurred on acute anesthetic treatment of a natural tooth or teeth during the trip.