Reliance Industries, which spent Rs 357.05 cr in CSR activities in 2013 will be required to spend 529.34 in FY15.
The countrys top listed companies belonging to S&P BSE 500 index would have to shell out nearly Rs 10,054 crore on corporate social responsibility (CSR) activities in the coming fiscal.
Going by the recently notified CSR norms that come into effect starting next month, 441 of the BSE 500 companies would be required to mandatorily contribute 2% of their average total net profit for last three fiscals towards CSR activities in the fiscal 2015.
The new Companies Act incorporates a provision of CSR under Clause 135 which states companies having a net worth of R500 crore or more, a turnover of Rs 1,000 crore or more, a net profit of Rs 5 crore or more during any fiscal needs to undertake corporate social responsibilities in such a manner that the company would spend at least 2% of its average net profits of the previous three years on specified CSR activities. The Companies Act also states that while computing the net profits, the income-tax and super-tax payable by the company under the Income-tax Act, 1961 shall not be deducted. This means that companies would have to allocate 2% of the three year average profit before tax (PBT).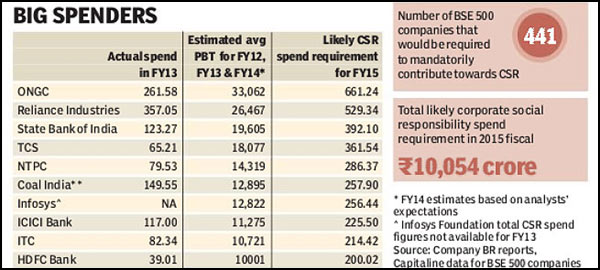 The expected total average profit before tax (for fiscal 2012 to 2014) for 441 firms that meet the criteria comes out to Rs 5.027 lakh crore with just top 20 firms likely to contribute nearly half to total profit before tax.
Though the CSR spend was not mandated till now, all the top 10 most profitable firms have been involved in some form towards contributing to social welfare programmes. Firms such as ONGC and Reliance Industries, which are likely to end up with standalone PBT of Rs 32,010 crore and Rs 27,367 crore, respectively, in fiscal 2014, have been the top spenders on welfare activities in fiscal 2013 and are likely to again shell out the most.
Tata Steel, which was the third-largest spender in fiscal 2013 with contribution of Rs 170.59 crore, would be required to mandatorily spend around Rs 176 crore considering the expected average PBT of Rs 8,840 crore (on standalone basis).