AAP currently seeks donations through the payment gateways enabled on its website or through cheques.
The party that showed that social media and the internet have a place in politics is now relying on the humble text message for a job thats as important as its people connect fund-raising. Heading into a nationwide election campaign, the Aam Aadmi Party (AAP) is set to roll out mobile phone apps aimed at making the process of cash donations secure and tamper-proof, and the key to ensuring that is a digital receipt sent via SMS to the donor, report Ajay Sukumaran & Anand J in Bangalore.
These apps are probably among the first attempts by any political party to blend technology with the political process beyond whats being done on the social media front. Incidentally, the goal of the Aadhaar platform put in place by Nandan Nilekani who is fighting elections from the Bangalore South seat on a Congress ticket is to spawn an app developer ecosystem based on the identity infrastructure it has created.
The party is currently testing two software applications, built in-house by crowdsourcing tech expertise from volunteers across the country, in rural locations near Bangalore while a third app from a private company is being tested in the Bangalore Central constituency from where former Infosys board member V Balakrishnan is contesting as the AAP candidate. The party plans to roll out the solutions this week.
The solutions developed by AAP are primarily aimed at ensuring that election funds are collected only by people authorised by the party while also allowing the donor to verify the persons identity, according to Vijayvithal, a Bangalore-based software professional and an AAP volunteer involved with the app development process. A person who makes a cash donation will receive an SMS receipt, something on the lines of the alerts that banks provide for ATM transactions, apart from a paper receipt.
Since the details of identity cards such as a driving licence or the Aadhaar card belonging to a fund-raiser will be stored centrally, the donor will also be able to verify them by a text message to same general number. Typically, there could be a few hundred fund-raisers in a parliamentary constituency but there will be limits on the cash amounts each can collect or what an individual can donate.
AAP currently seeks donations through the payment gateways enabled on its website or through cheques. We don't encourage cash donations. But this will increase the security of the donation process tremendously and the chances of lumpen elements collecting money in the name of the party will go away, said Vijayvithal, adding that the solutions will also be effective in rural areas since a basic mobile phone will serve the purpose. AAP members and volunteers from different cities helped draw up the specifications and put together the solutions after the team in charge of fund-raising outlined its requirement, he said.
While AAP is using technology to bring in transparency and participation of common man in politics, other political parties appear to be largely using it for propaganda, said Vikram Nalagampalli, CEO of Voterite, a social network for voters and candidates. AAP has built everything ground up with an objective to bring in transparency. We have seen lot of apps being developed by various people. From an innovation perspective, they are good but most are geared just for elections and may not necessarily be useful after the elections are over, he said, adding that by the next election, politicians will see technology as more than a propaganda medium.
Donations received through AAP's existing channels of fund-raising in the three months since December 12 reached Rs 13.9 crore on Tuesday, according to its website. While 73% of donations came from India, contributions from the US accounted for 10.1% (Rs 1.4 crore) followed by UAE with 4.2% (Rs 58 lakh), and UK and Singapore each with 2.4% (Rs 33 lakh). Maharashtra topped the list of Indian states, with 22.3% of the contributions, followed by Delhi (20.5%), UP (16.8%) and Karnataka ( 10.1%).
Value-added services, including SMS, account for 20% of the revenues of telecom operators and bulk SMSes are typically very cheap, said Romal Shetty, national head for telecom at KPMG. This is obviously a first of its kind, other than mass SMS-based campaigns or missed-call campaigns, he said. While these apps may offer reasonably good security and the advantage of traceability, Shetty reckons that a more secure system will probably need to involve a biometric verification.
Also read: 'Extraordinary riddle' of lost Malaysia Airlines Flight MH370 now 2 weeks old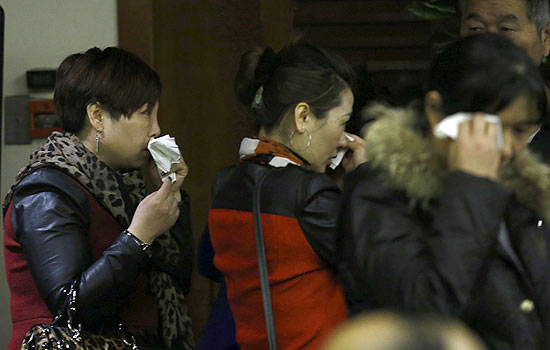 Women cry as they enter a room to attend a briefing by the Malaysian government regarding the missing Malaysia Airlines Flight MH370 at a hotel in Beijing. (Reuters)