The textile vision document prepared by the Ajay Shankar committee, which envisages textile and garment exports worth $300 billion by 2024-25 compared with $39 billion in the last fiscal, suggests a structural transformation whereby the country ships out only finished products.
"This would imply that growth rates in exports of fibre and yarn start declining and growth rates of apparel, home furnishings, technical textiles and other finished products should grow very rapidly," said the draft vision document. "This would maximise employment generation and value creation within the country. In the process, investment of about $120 billion would take place and about 35 million additional jobs would get created."
However, implementing these suggestions would be easier said than done because attempts by the textile ministry in recent years to discourage cotton exports either through a temporary ban or by fixing a cap on exports or a tax on outbound shipments to protect the interests of the industry stoked wide-scale protests by farmers, political parties and even the agriculture ministry. It would also be difficult to discourage yarn exports by spinning mills, which have already added vast capacity to emerge as the largest suppliers of cotton yarn in the global market.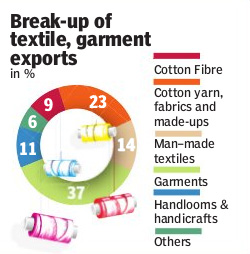 While cotton accounted for roughly 9% of the global exports of textiles and garment, cotton yarn, fabrics and made-ups made up for 23%. The country accounted for roughly 5% of global trade last year.
The vision document also forecasts textile and garment sales in the domestic market to rise to $350 billion by 2024-25, as against $100 billion in the last fiscal.
The draft vision, strategy and action plan seeks online comments/suggestions until August 18, after which feedback will be considered and a final action plan would be prepared and placed before the Cabinet for approval.
"There is no reason why India, provided it takes the necessary steps, cannot achieve 20% growth in exports over the next decade. In the domestic market, sustaining an annual growth rate of 12% should not be difficult," it said.
The country's textile and apparel exports have expanded at an average of 11% over the last 10 years, still lagging the growth rates achieved by even smaller nations. Even Vietnam could achieve a peak export growth rate of 30% while Bangladesh could achieve a growth rate of 18% during this period.