The BSE on Thursday witnessed a three-hour shutdown due to network-related issues, following which the finance ministry and Sebi sought reply from the exchange on the incident. This is the fourth time in CY14 when the BSE has faced a technical glitch.
Speaking at a media conference in Mumbai, BSE managing director & chairman Ashishkumar Chauhan said a preliminary report on the shutdown would be sent to Sebi and finance ministry on Thursday. Also, a root-cause analysis report would be sent to the authorities.
Chauhan added that the exchange had to be shutdown as the number of primary connections came down abruptly. At 9.42 am, the number of primary connections had come down to less than 2,000 and, hence, the market needed to be closed as per current regulations applicable to closure of markets The market closure duration therefore from 9.42 am till 12.45 pm was approximately 3 hours and 3 minutes, he said.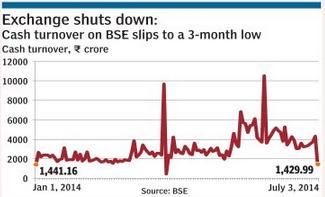 The problem was resolved by 12.15 pm before the market could be started from Disaster Recovery Site located at Dhirubhai Ambani Knowledge City, BSE added in a press release. Market watchers say investors could lose faith in the exchange if such incidents reoccur. While a one-off event should not have any major impact on the turnover on the exchange, such repeated incidents could be of concern for investors, said an analyst with a domestic brokerage.
The turnover on the exchange took a hit on Thursday. The BSE saw its lowest turnover in the cash market in more than three months at R1,429.99 crore, while the turnover in the F&O segment stood at R13,394 crore, the lowest in more than a month.
On whether there were any issues faced by market participants who had already taken their positions, Chauhan said Market resumed at 12.45 pm, so market players had around 2 hours and 45 minutes to come out of their positions in case they need to. Apart from this, there was little movement in the markets, so we have not received any specific complaints.