Shares of TCS closed at Rs 2,196.30 on Wednesday. The results were released after market close. (Photo courtesy: TCS)
India's largest software exporter TCS today posted a 48.2 per cent jump in net profit at Rs 5,358 crore for the fourth quarter of the last fiscal and sounded optimistic that it would do better this year.
Tata Consultancy Services (TCS) MD & CEO N Chandrasekaran said the company will have a better year in FY2015 on the revenue growth front and he exuded the confidence that the company would outpace industry body Nasscom's target of 13-15 per cent growth this fiscal.
"The financial services, retail and life-sciences sectors will drive revenue growth in FY15, while deals will come from the areas around simplification and efficiency, digital, and regulatory and governance fronts," he said.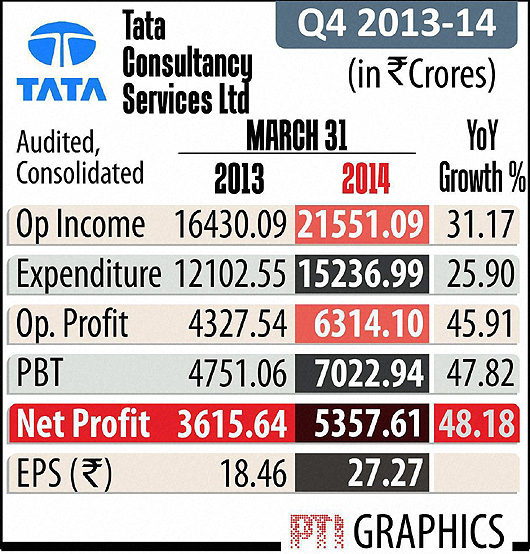 For the last quarter of FY 2014, TCS's overall revenue grew 31.2 per cent to Rs 21,551 crore and margin widened by 285 bps to 24.9 per cent under the Indian GAAP accounting standards.
For the full year, net profit grew 37.7 per cent to Rs 19,164 crore on a revenue of Rs 81,809 crore, which rose 29.9 per cent from the previous year.
The numbers are in line with analyst estimates and the guidance is also better than the one given by rival Infosys.
Helped by large deals and an uptick in client spending, Infosys, the second largest software exporter, yesterday had reported a 25 per cent jump in its consolidated net profit to Rs 2,992 crore for the quarter ended March 31, 2014. Its revenue forecast of 7-9 per cent fiscal way below Nasscom's projection.
TCS shares today closed at Rs 2,195 apiece on the BSE, 2.51 per cent lower than its previous close. The earning numbers came after market hours.
"TCS results were in line with our estimates. India revenues were flat quarter-on-quarter and that impacted the overall growth rates. It has maintained that FY 2015 growth rate will be higher than FY 2014 growth rate and we find this encouraging," Kotak Securities' Dipen Shah said.
On the deal pricing front, especially in light of reports that its rivals are going aggressive, Chandrasekaran dismissed concerns, saying he expects it to be flattish to stable.
On the impact of rupee appreciation, TCS Chief Financial Officer Rajesh Gopinathan said even though the rupee has appreciated by over 10 per cent, the rally is not worrisome yet.
TCS hedges its entire chunk of receivables and there has not been any change in its hedging policies, he said, without giving its hedging level.
The number of clients in the over USD 100-million revenue potential category during FY14 increased to 24 from 17 a year ago.
On the employees front, the company raised its gross hiring target to 55,000 from the last year's 50,000 (it ended up hiring 61,200), while the utilisation including trainees stood at 77.9 per cent. The total number of employees crossed the 3-lakh-mark.
The city-headquartered company announced a wage hike of 10 per cent for the domestic employees and said that even though the margins may be impacted in the first quarter of FY 2015 due to the new hiring and wage hikes, better operational efficiencies will even it out during the course of the fiscal.
Meanwhile, the TCS board announced a dividend of Rs 0.29 for a redeemable preference share of Rs 1.