IT major TCS surpassed Reliance Industries during intra-day trades on Friday to become the country's most valued company for a brief period of time. By the end of the trading session, however, RIL had once again regained the top slot in terms of market capitalisation.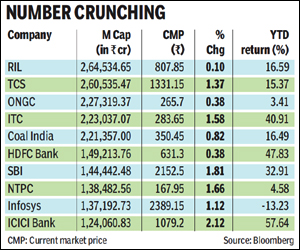 During the day, TCS shares gained nearly 2% to push its m-cap to over R2.61 lakh crore. During the afternoon trade, TCS commanded a m-cap of R2,61,357 crore about Rs 833 crore more than RIL's market value of R2,60,524 crore. A marginal fall of 0.12% in the share price of RIL also acted as a catalyst.
By the end of the trading session, however, the m-cap of RIL and TCS was pegged at R2.65 lakh crore and R2.61 lakh crore, respectively.
Incidentally, the year-to-date gains of both RIL and TCS are also almost similar. While the software major has gained 15.37% in 2012, the Mukesh Ambani-controlled entity has moved up 16.59% since January 2012.
According to data from Bloomberg, ONGC, with a market valuation of R2.27 lakh crore, stood at the third position, followed by ITC (R2.23 lakh crore) and Coal India (R2.21 lakh crore). The m-cap of a listed company corresponds to the cumulative market price of all its shares.