So the trend carries on. TCS and HCL continue on their progressive journey while Infosys and Wipro are stuck in quicksand. The situation is likely to be this way for some time, unless the Bangalore-based IT majors can discover their magic touch quickly
The last quarter of the financial year 2012-13 has deepened the fears investors and analysts had for some time. The widening wedge between the out-performers and the under-performers in the IT industry and the growth projections for this financial year are set to amplify the performance gap. The trailblazers of yesteryears Infosys and Wiprohave consistently come behind Tata Consultancy Services (TCS) and HCL Technologies in key parameters like employee utilisation rate and rate of growth. The once superior operating margins (OPM) of Infosysreported the lowest ever operating profit margins in Q4and has now lagged behind TCS for the past three consecutive quarters. The difference between the two IT majors also extends to the utilisation rate, with TCS at 82% while for Infosys stood at 73.9%. This heterogeneous trend is here to stay for some time, feel analysts.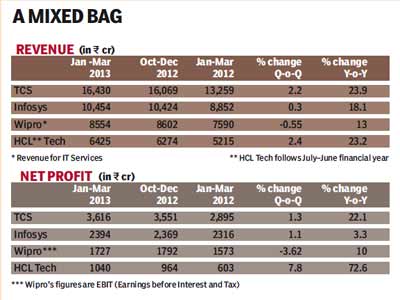 To be fair to these Bangalore-based companies, they are restructuring and some senior level managerial changes are happening. However, the revenue gap between Indias number one IT services exporter TCS and its rival Infosys has more than tripled in the last four financial years, revealing the different growth trajectories of both the companies. TCS at the end of FY13 reported a consolidated revenue of R62,989 crore against Infosys topline at R40,352 crore, a difference of R22,637 crore. However, this was not the situation four years ago when the revenue difference was around R7,000 crore.
Industry leader TCS is however gung-ho about FY14. We are chasing more large deals today both in terms of numbers and value than we were last year and our commentary is that FY14 will be a better year than FY13, said N Chandrasekaran, its CEO and managing director. Infosys, meanwhile provided a subdued revenue guidance for FY14 saying it would grow its topline between 6% and 10%, compared with Nasscoms projection for the industry of between 12% and 14%.
Meanwhile Wipros IT services revenue is projected to at -0.6%-1.6% over the previous quarter whereas the analysts were expecting a rise of 1-4%. And this is coming on back of a sequential decline of EBIT (earnings before interest and taxes) at 3.62% from R1,792 crore, while revenue also showed a marginal decline of 0.55% from R8,602 crore in the Oct-Dec quarter.
Infosys
Infosys posted a mere 3.4% rise in net profit year-on-year for the March quarter at R2,394 crore, while revenue grew 18.1%. Infosys CEO and MD SD Shibulal pointed out that global economic uncertainties remain a challenge. Discretionary spends are under tremendous stress, he said.
The firm even missed its growth target for the year ended March disappointing the markets and sending its share plunging 21.33% on the BSE, its steepest fall in a decade. And it said that foggy visibility has forced it to discontinue providing earnings guidance for FY14.
For FY13, revenues grew 5.8% to $7.4 billion, missing the guidance of 6.5%. Profits stood at $1725 million. In rupee terms, net profit for FY13 came in at R9,421 crore with revenues at R40,352 crore. For the March quarter, revenues, in dollar terms, stood at $1,938, up 1.4% quarter-on-quarter. Net profit touched $444 million, up 2.3% sequentially, while declining 4.1% y-o-y. In rupee terms, y-o-y revenue went up by 19.6% to R40,352 crore from R33,734 crore. Sequentially revenue was flat at 0.3% at R10,454 crore.
Infosys extremely poor result in terms of margins (200 bps drop) and top line should take the stock back to its pre-December levels. This volatility in Infosys financial performance is even worse than a Tier-II IT company and the street will rightly punish it with a massive de-rating, brokerage house CLSA said in a note. Given its a B2B business, reliance on company commentary remains high and such variation from its own guidance multiple times when peers have been much more predictable reflects very poorly on the management, it added.
The global currency market continues to be volatile, reflecting the uncertain economic environment. Our hedging strategy helps us to minimise the volatility impact, CFO Rajiv Bansal said.
According to Partha Iyengar, country manager, research, Gartner India, the continued weak guidance, even in the context of firming economic indicators globally and especially in the key US market, is a significant cause of concern.
Other analysts also points out that TCS is doing better. Infosys commentary remains at odds with TCS. TCS maintains that FY14 could be a better than FY13. Clearly, Infosys problems are more company-specific and the company would need to do a lot of heavy lifting to keep their market share from sliding. The stock could remain volatile in the near term with TCS being one of the key beneficiaries of Infosys misfortunes, says Bhuvnesh Singh, an analyst with Barclays Capital. Geography-wise, North America grew just 0.1%, while Europe grew 5.7% sequentially. The domestic market during the quarter grew 10%. Infosys and its subsidiaries added 56 clients during the January-March period.
TCS
TCS reported a strong set of numbers for the three months to March, with net profits rising 1.3% sequentially at R3,597 crore. Revenues at R16,430 crore were up 2.2% sequentially, driven by a 4.4% increase in volumes.
With this, Indias biggest software firm ends FY13 with revenues of R62,989 crore, up 28.8% and net profits of R13,941 crore, up 30.9%. OPM for the year came in at 26.5% which is lower than the 27% for Q4 of FY12, due to some adverse currency movements and a one-off expense.
TCS added 153 clients in FY14 of which 52 were added in Q4. Chandrasekaran observed that opportunities for vendors were on the rise as companies attempted to become more efficient, re-engineered themselves and re-designed their business models. There is traction both in run-of-the mill spending as also discretionary spends, the CEO said. While the CFO Rajesh Gopinathan noted that the pricing regime appeared to be stable though there could be some ups and downs.
TCS, which acquired Alti, a French IT services firm with 126 million euros of revenue for 75 million euros earlier this month, believes that Europe is a focus area for both organic and inorganic growth. Were happy that we have found a good asset and revenues should start kicking in from Q2 FY14
onwards, Chandrasekaran said, adding the firms portfolio of clients was becoming increasingly more diversified now across verticals.
TCS which gave the geographical growth y-o-y basis has seen its North American business growing by 27%, while United Kingdom grew by 44% and Europe grew by 21%. Among the emerging economies, Latin America grew by 40%, Asia Pacific grew by 27%, India by 16% and Middle East Africa by 28%. All industry verticals grew in double digits also during FY13.
Wipro
Wipro, Indias third largest IT services exporter, has completed its demerging of its IT services firm from its other businesses. Last week it reported a year-on-year growth of 17% in consolidated net profit for the fourth quarter ending March 31, with the companys IT services business meeting the lower end of its dollar revenue guidance for the quarter.
The software services business, posted a 13% year-on-year revenue growth at R8554 crore compared to R7,590 crore last year. Earnings before interest and taxes (EBIT) for IT services grew 10% year-on-year to R1727 crore. Sequentially, EBIT declined 3.62% from R1,792 crore, while revenue showed a marginal decline of 0.55% from R8,602 crore in the Oct-Dec quarter.
In dollar terms, the IT business revenue at $1,585.1 million showed a sequential increase of 0.5% and year-on-year increase of 3.2% while EBIT at $317 million grew 10% YoY. The company added 52 new clients in the quarter.
The company said it expects revenue from IT Services to be in the range of $1,575 million to $1,610 million in the current quarter. The cross currencies have been volatile and impacted our financial performance in the quarter. Excluding the impact of foreign exchange, we have been able to maintain margins on a sequential basis. We have shown significant improvements in cash flow generation for the year, said Suresh Senapaty, executive director & chief financial officer of Wipro.
The company is hoping that the demerger will help the IT services business, which contributes more than 90% of its revenue, grow faster. We have completed the demerger of the Diversified Business effective March 31, 2013 to make Wipro Limited a pure play IT company. We are confident that being a technology-focused company will provide a fresh momentum for growth, said Wipro chairman Azim Premji.
Wipro has seen its European revenues declining by 3.4% sequentially saw its North American revenues growing up by 1% over the same period. The India and Middle East revenues grew by 8% while the Asia Pacific and other emerging markets grew by 2.8%.
HCL Technologies
HCL Technologies, Indias fourth-largest IT-services exporter, continued its march with surprises on the upside. It beat street estimates by posting a 73% year-on-year and 7.8% sequentially jump in net profit during the January-March stretch, backed by higher other income, forex gains and a strong order book despite a challenging macro environment.
For the quarter ended March, the company recorded a profit of R1,040 crore against R602.5 crore in the year ago period. In the October-December quarter, profit was recorded at R964.7 crore. However, revenue during the period stood at R6,425 crore up 23.2% y-o-y and 2.4% sequentially.
During the quarter, HCL Tech recorded a dollar revenue growth of 3.2% sequentially at $1,191 million, while revenue grew in dollar terms 13.6% y-o-y. The analysts community were expecting the IT major to post 3% sequential dollar revenue growth.
HCL Tech once again reported healthy set of results, beating our as well as market expectations on all fronts. The dollar revenues grew by 3.2% q-o-q, led by strong 8.6% sequential dollar revenue growth in infrastructure managed services, said Ankita Somani, IT analyst, Angel Broking. She also added that HCL Tech is clearly emerging as a front runner and outperforming many of its peers.
During the quarter, companys EBIT (earnings before interest and taxes) rose 2.5% sequentially to R1,276 crore, while annually it was up 56%. For the third quarter ended March, HCLs EBIT margin stood at 19.9%, up marginally from 19.8% in October-December period. HCL Tech follows July-June financial year.
Analysts point out that operating margin, which has been a concern for the company over the past quarters is now looking to improve as the strategies have been paying off. Our net margins have improved for six straight quarters and are up by 51.5% along with a robust 14.6% dollar constant currency growth for the twelve month period ended 31st March 2013, said Anant Gupta, president & CEO of HCL.
During the 12 months period ended 31st March, 2013, revenues increased by 27% y-o-y (INR) while the earnings per share have grown 74% y-o-y (INR). There was also an increase in EPS (earnings per share), facilitated by expansion in both gross margin and operating margin by 340 bps and 420 bps y-o-y respectively with the return on equity at 31%.
The company said that it won over $1 billion in large multi-year transformational deals. Though some in the analyst community felt that the company was becoming overly dependent on its infrastructure management services (IMS) segment.
For HCL, IMS in the last four quarters contributed close to 80% of the incremental growth and other service lines were muted. The question is being raised is that what would happen to the company if the growth starts to taper in IMS segment.
Geography wise, Europe grew 6.3% sequentially and Americas 3.6%. On a constant currency basis growth was largely driven by infrastructure services growing at 9% q-o-q and enterprise application services at 4.4%. Public Services grew 14.8%, while manufacturing recorded a growth of 7.8% during the quarter.
Hiring, wage hike and attrition
According to TCS, it would be hiring 45,000 people in FY14. TCS added net 12,559 employees during the three months to March and 37,613 employees during FY13, taking the firms headcount to 2,76,196. Attrition at the IT major came in at its lowest 10.6% in the March quarter.
As for wage hikes, the existing employes in India will receive an increase in wages of between 5% and 10% while the hike for employees in developing countries will be 4-6% and for those in developed countries between 2% and 4%.
While at Infosys, it has seen an increase in the number of non-billable employees warming their seats. The utilisation rate for FY13 stood at 69.5% including trainees and 73%
excluding trainees. For the January-March stretch, the utilisation rate was 70.9% including trainees. As on March 31, total employees of the company stood at 1,56,668. The quarter also saw the lowest net addition of employees in three years, with the firm adding only 1,059 people.
Wipro meanwhile added 2907 people in the quarter to take it total employee count in the IT services business to 1,45,812. HCL reduced its staff strength for a second quarter in a row. HCL Tech cut its headcount by 791 employees during the quarter, taking the total employee strength to 84,403 as of March 2013 from 85,194 at the end of the December quarter.