JLR volume and pricing performance improves with stability in end-market demand (FE)
Jaguar Land Rover (JLR) profitability set to accelerate: We have been cautious on Tata Motors shares primarily on account of: (i) Jaguar Land Rover being susceptible to cash flow vulnerability given the elevated levels of capital expenditure and uncertainty over demand and pricing trends; and (ii) worries over the standalone operations given macro concerns and corresponding weakness in volumes, which have resulted in large losses over the last three quarters. As a result, Tata Motors has performed in-line with the Nifty (YTD) and consensus earnings have been lowered by 11% for FY14e (estimates) and 6% for FY15e during the same time.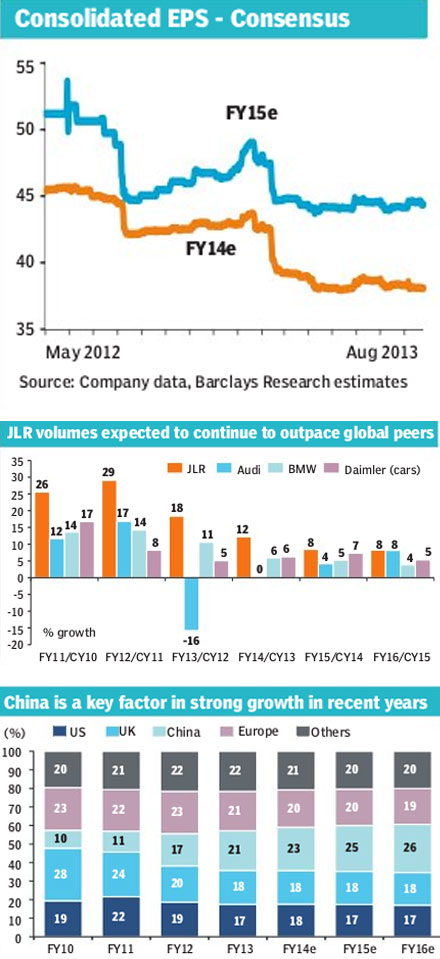 In our view, while concerns on the standalone operations persist, Jaguar Land Rover has shown better-than-expected volume and pricing performance with stability in end-market demand. Additionally, with platform consolidation benefits yet to be had, we expect profitability (Ebit margins) to expand 165bps in FY13-16e, thus resulting in positive free-cash generation (pre working capital changes). Overall, we raise our PT (price target) by 39% to Rs 368 and upgrade the stock to Overweight on relatively higher visibility in earnings (vs other coverage OEMsoriginal equipment manufacturersthat remain prone to domestic macro weakness) along with near-term margin improvement triggers in place.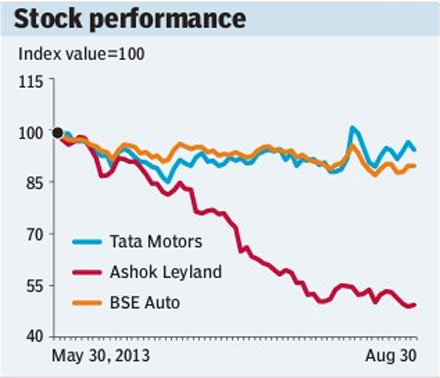 Volume and product mix strong for Jaguar Land Rover: With a strong pipeline of products, we expect Jaguar Land Rover to outpace its industry peers with a volume CAGR (compound annual growth rate) of 10% from FY13-16e (vs 5% for peer set, namely BMW, Audi and Daimler). Additionally, recovery in key markets of the US and Europe along with increased penetration in China (targeting 200 distributors by FY15e vs 135 currently) is expected to keep pricing trends intact for Jaguar Land Rover.
Jaguar Land Rovers Ebit margin set to expand by 165bps in FY13-16e: We expect Ebit (earnings before interest and taxes) margins (adjusted for accounting policies) to expand from 8.8% in FY13 to 10.4% in FY16e. The key driver for this will be platform consolidation and an eventual move to a modular design platform (expected in FY15/16). Jaguar Land Rover is in the process of consolidating its platforms from nine in FY12 to six in FY16e, while increasing the number of products from 9 to 15 during the same time. Platform consolidation should augur 200bps of profitability improvement for Jaguar Land Rover from FY13-16e. Arguably, Jaguar Land Rover has a historically high cost structure due to legacy issues, which have restricted the commonality of parts and sharing across platforms (standard practice for peers). With the planned consolidation over the next few years, we expect Jaguar Land Rover s processes to move in-line with global peers and result in a more versatile and cost efficient manufacturing process.
Free cash expected to improve as a result: With steady volumes and improved profitability, we now expect Jaguar Land Rover to generate free cash (pre-working capital) of GBP247m in FY15e and GBP514m in FY16e. However, Jaguar Land Rovers free-cash generation remains lower than peers at 1- 2% of sales (vs 4-5% for BMW), making it vulnerable to a downturn in volumes or lower than expected profitability.
Standalone operations expected to remain loss making for FY14/15e: We expect Tata Motors standalone business to be weighed down by: (i) downturn in M&HCV (medium and heavy commercial vehicles) volumes (expected to be down 13% in FY14e after a 31% drop in FY13) resulting in 50% capacity utilisation and high discounts (>10% of ASPaverage selling price); and (ii) weak car volumes due to loss in market share from 14% in H1FY12 to 6% in H1FY13. We expect a PAT loss of Rs 24 bn in FY14e and Rs 13.8 bn in FY15e. We currently are expecting a recovery in profits in FY16e with a PAT of Rs 0.9 bn.
Valuation methodology: We move our JLR valuation methodology to an EV/Ebit (vs EV/Ebitda earlier) in line with global peers as we believe it offers a better comparison tool given the different accounting policies of JLR vs peers (JLR capitalises 80-90% of product development vs. peers capitalising 20-30%). We value JLR at a 10% discount to BMW (target automotive valuation) due to a smaller scale along with lower free-cash generation vs peers.
Our sum of the parts (SOTP) is based on 5.85x FY15e EV/Ebit for JLR + 6x FY15e EV(enterprise value)/Ebitda for standalone operations + R29/share as value of subsidiaries. We raise our price target to R368 (vs R265 earlier), which implies 23% upside potential from the current market price. We factor in a GBP/INR rate of 90/INR for our forecasts.
Increasingly a global company, thus, relatively defensive in weak macro conditions: With losses in the standalone operations and relative strength in JLR; Tata Motors is increasingly a play on the global luxury market vs the Indian trucks and passenger car market. JLR is expected to account for 79% of consolidated revenues and all of the consolidated Ebit. Given its high dependence on overseas markets, we believe that earnings for Tata Motors will be impacted lesser than peers on account of the domestic downturn.
Barclays